Jon Ball is out and about supporting Ealing traders
When he's not on the road with his job (as a film lighting technician) or in the Council Chamber representing his ward (as Ealing Common Councillor) Jon Ball is often to be found in one of Ealing's eating or drinking establishments.
A great advocate of the borough's social life, Jon is backing the Council's new campaign to get more of us out and about - helping local businesses.
Each week he will be writing for Ealing Today giving his reviews (non-political!) of some of the best places to eat, drink and generally be merry.
The Star and Anchor
The former Baroque on the Uxbridge Road in West Ealing has been reborn as an upmarket gastropub called the Star and Anchor. The decor features tasteful maps in tune with its nautical theme.
Walking into the pub, you see a large main area and inviting bar with a small five table eating section on the left.
I had the squid starter with a hint of pepper - the calamari were pleasantly crisp not rubbery. Then I plumped for the haddock (pictured) - perfectly flaky in light batter, and served as a generous portion!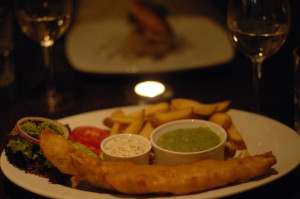 My companion had the pan-fried chicken with mushroom risotto. The chicken was succulent with just the right degree of crunch to the rice in the risotto.
All this was washed down by an excellent white Rioja.
The thing that really stood out about the dining experience though, was the supremely attentive service that would make a Michelin starred restaurant proud!
So the Star and Anchor has proved is welcome addition to the flotilla of attractions for Ealing's foodies.
Jon Ball
If you want to be Ealing's Man or Woman About Town - send me a few lines about yourself and a short review.

8th September 2011