Local artists selling their works in temprorary store
A new pop-up shop's opening in Ealing - just in time for Christmas.
Local artists, Jessica Rose, a painter and printmaker, and Nicola Gaughan, a photographer and graphic designer, will be selling their products at the store in Bond St, Ealing, from 09-15 December.
The store, called Meet the Makers, will be open from 10am-6pm and aims to give shoppers the chance to buy products directly from the people who made them.
Jessica and Nicola have been allowed to use the shop temporarily by Ealing Broadway Business Improvement District (BID), which has been offering the unit to fledgling businesses.
The pair came up with the idea for their store because they feel too many mass-made and imported products are sold on high streets.
They said: "We want to set up a store which champions local small-scale manufacture. Our shop is called Meet the Makers because our customers will buy products from us, the people who designed and made them.
"We currently run our businesses from home and are dependent on shops and galleries to stock our goods or on art and craft fair organisers to provide us with temporary stalls. Shops take commission on sales and fair organisers charge fees for their stalls. Because we are fledgling businesses and live very much hand to mouth we often struggle to pay the fees demanded so having our own temporary store is a great opportunity."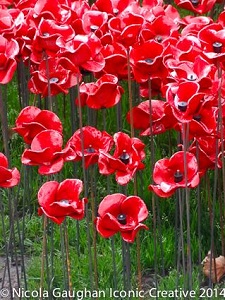 (Blood Swept Lands and seas of Red Nicola Gaughan)
Jessica and Nicola, both based in Hanwell, produce many photos and paintings of local scenes in the borough, as well as ranges of greetings cards.
Nicola is a designer and published photographer who has worked for major companies including Sony and Disney.
Jessica has exhibited with the Society of Women Artists at the prestigious Mall Galleries in London and has recently completed a large commission for Syon House, a beautiful stately home in Brentford owned by the Duke of Northumberland.
December 3rd 2015