View the colourful art work in Hanwell and Southall
Related Links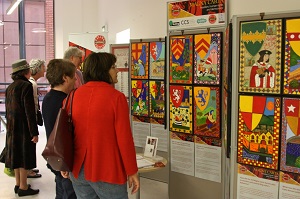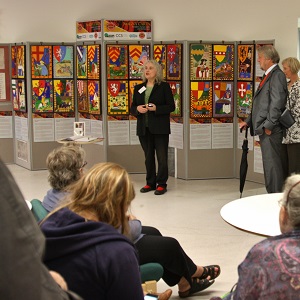 Ealing Autumn Festival Artistic Director, Gillian Spragg at opening of exhibition
Participate
Sign up for our free newsletter
Comment on this story on the m
Ealing Autumn Festival's tribute to the 800th anniversary of the Magna Carta has moved to two new venues following its successful launch last month.
Visitors have been admiring the Magna Carta turns 800 exhibition since it opened at Ealing Central Library and the unique coloured paintings will be touring libraries across the borough as part of this year's festival. This week it moved to Hanwell Library and Jubilee Gardens Library, Southall, where a digitised version will be shown, until July 25.
The 26 paintings are based on the coats-of-arms of the 25 Magna Carta barons and King John and the exhibition is designed and organised by Diana Braybrook, a practicing artist in west London, and tutor to the 4020 Art Group based at Hanwell Community Centre.
Hanwell Library is holding an open day on Saturday (July 11) from 2-4pm when the exhibition will be on full display with young Magna Carta ambassadors ready to explain Magna Carta and discuss the impact it has had on our beliefs in freedom, human rights and democracy.
A complete copy of the Magna Carta will be on display, translated into English by the British Library.
There will be the chance to join the festival's craft-making group and create your own copy of one the Magna Carta coats-of-arms and also see some of the fascinating heritage of Hanwell and Lego models that librarians have been making.
Ealing Autumn Festival Artistic Director, Gillian Spragg said: "This the first part of the Magna Carta's six-month tour of Ealing Libraries. We have put out a call for contributions from local school and community groups and we already know that there will be some very interesting contributions.
"The launch at Ealing Central Library on June 13 was a stunning success. Opened by Deputy Mayor, Patricia Walker, Dr Rupa Huq MP, Councillors Jon Ball, Joanna Dabrowska and Tariq Mahmood came to see what we were doing and met some of the artists.
"Library visitors were especially impressed by the young Magna Carta ambassadors. Volunteers from the University of West London led an enthusiastic group of craft-makers and Rainbow Poetry Recitals read some powerful poems celebrating freedom and human rights.
"We are now particularly looking forward to touring the Magna Carta Exhibition to Hanwell as the 4020 Art Group, who created the paintings, is based at Hanwell Community Centre."
There will be an open day at Jubilee Garden Library on Saturday, July 18 from 2-4pm.
8th June 2015