But it will re-open through Christmas period
Longfield Avenue (alongside Ealing Town Hall) will be closed to through traffic from Monday 19 November until Saturday 9 March to allow improvements to the road and pavement to take place.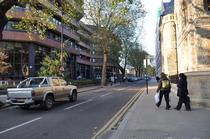 The road will reopen between Friday 21 December and Sunday 6 January to reduce disruption during the Christmas and New Year period.
The car park behind Perceval House will be open to the public on evenings and weekends as normal throughout the works. Vehicles will be able to access it from Gordon Road at the north end of Longfield Avenue.
The works will see the section of road on Longfield Avenue between Uxbridge Road and the rear of the Town Hall raised. Both the road and the pavement will remain clearly defined, but the raised surface will create a shared space making it easier for pedestrians to cross. The remainder of the road up to the railway bridge will be resurfaced.
Further improvements include new Yorkstone paving, granite block paving, granite kerbs and general de-cluttering and reorganisation of the street furniture (such as bollards and rubbish bins). New cycle parking will also be installed. The works are part of a wider programme of improvements to Ealing Town Centre.
The section of Longfield Avenue between the entrance to the Perceval House carpark and Uxbridge Road will be closed to all traffic during the works. Vehicles will not be able to access Longfield Avenue from Uxbridge Road throughout or vice versa. This will be clearly signposted and drivers are advised to seek alternative routes.
Emergency services will be allowed access and the eastern side of the road (the Town Hall side) will be open to pedestrians throughout.
Councillor Bassam Mahfouz, cabinet member for transport and environment, said: "Raising the road is going to slow traffic down and make it safer for pedestrians to cross. It will also create a boulevard feel that will complement the new Dickens Yard retail development.
"This closure is obviously going to cause some temporary inconvenience for drivers, but we are going to reopen it during the Christmas and New Year period and the finished result will be worth it."
For more information on the closure, email highwayServices@ealing.gov.uk or call 020 8825 5000.
6th November 2012