Local MP encourages everyone to stop and chat and help combat loneliness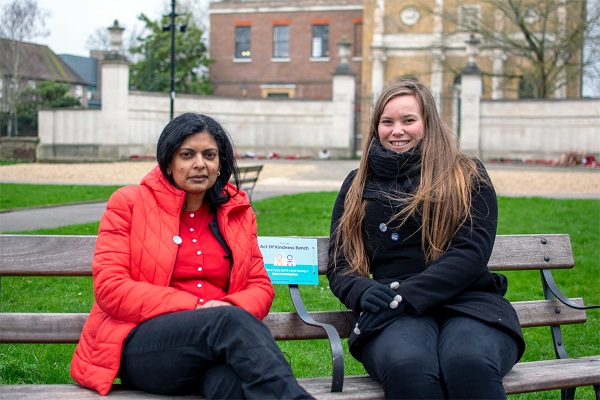 Rupa Huq and Lexy Matthews from Campaign to End Loneliness
Ealing's doing its bit to try and combat loneliness with the launch of a 'Happy To Chat' bench.
The idea is to encourage people to stop for a while and talk to each other. The bench is to be found on Ealing Green opposite Pitzhanger Manor and was tested out by Ealing Central and Acton MP Rupa Huq.
She said: ''This is a very worthwhile initiative to bring people together in our increasingly atomised and individualised society. It's important for people to stop, take a minute out of their day and talk to other people, and I would encourage my constituents to make the most of this project. It's good for everyone's mental health and physical wellbeing to take a bit of time to communicate and find common ground with other people, so I'm really pleased to support this campaign and to have a bench in my constituency."
With over nine million lonely people in the UK, the Campaign to End Loneliness have been aiming to connect and bringing communities together across the UK. The benches are a simple way to provide a space for people to have a chat with anyone, about anything.
Similar benches have been successful in other parts of the UK at tackling isolation and loneliness and have come to be regarded as health assets for some communities. The initiative is part of Thrive LDN's campaign to hold an open conversation with Londoners about mental health and wellbeing for them and their communities.
Kate Shurety, Executive Director of the Campaign to End Loneliness, said: "With 1.4 million chronically lonely older people in the UK, there is no doubt that loneliness is a serious public health issue; but there are things we can all do. Our research shows that small moments of connection, like saying smiling to someone on the street, or stopping for a chat when you're walking the dog in the park, can make a huge difference to someone who is feeling lonely. That's why we're proud to support Thrive LDN in this scheme and have the support of Rupa Huq MP and Ealing Council."
Dr Jacqui Dyer, Co-Lead of Thrive LDN and Mental Health Equalities Champion for NHS England, said:
"Thrive LDN was launched to ensure Londoners were front and centre when it comes to improving mental health and building resilience. Enabling a citywide community bench initiative, supported by the Thrive LDN Champions Network and leading charities, such as the Campaign to End Loneliness, will encourage community conversations and offer a social space for residents. With over a quarter of Londoners reporting that they feel socially isolated, it is a simple way in which we can collectively break down social barriers and support Londoners, of all ages and from all walks of life, to interact more and support their wellbeing."
For more information, please visit: https://www.campaigntoendloneliness.org/
February 25, 2020