Artist Rosanna Henderson takes on voluntary role.
Mosaic Artist Rosanna Henderson has been working at the Log Cabin on a voluntary basis one day a week, since August. We envisage this will be a 9 month project and the aim is to make several large cut out mosaics for their sensory garden.
As well as the sign, Rosanna has completed a bird, which will hang in the trees, and have started a butterfly. Several of the children are getting involved in creating the mosaics.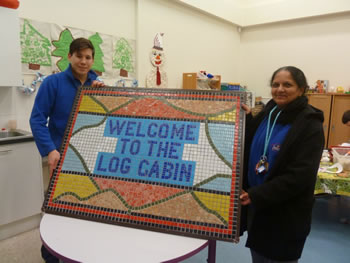 The completed sign that will hang in the entrance/foyer of the Log Cabin. The people holding the sign are Dan Yap – Playground Manager Kalpana Mehta – Senior Play Worker.
The Log Cabin is a fantastic organisation that was set up 34 years ago and provides after school care, respite care and play schemes for 300 children from the ages of 4 – 15, many of them with special needs.

All materials have been donated by individuals or businesses but we are always happy to receive more materials.
December 20, 2012