Major makeover for the charity that helps children with special needs
Related Links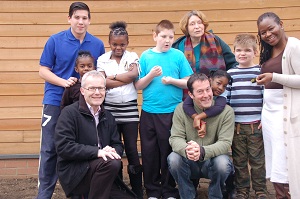 Pictures show Councillor David Millican (front left); Councillor Phil Taylor (front right); Daniel Yap, Playground Manager (back left); Helen Johnson, Chair of Trustees (centre back); and Sharon Flynn, Director (back right) with children
Participate
Sign up for our free newsletter
Comment on this story on the
The renowned Log Cabin is fully functioning again in its new home of the re-built Log Cabin Children's Centre in Northfields Ave.
The Log Cabin is a charity which provides opportunities for children and young people who have disabilities or additional needs to socialise and play in a safe and inclusive environment, through its after-school club, holiday playschemes and Saturday sessions.
Local Northfields Councillors Phil Taylor and David Millican visited on Friday 17 February to see the work.
"The Log Cabin provides play superb play facilities for children with additional needs and we were keen to see the excellent work they were doing during half-term in their new home," said Northfield Councillor David Millican.
"I was hugely impressed to see so many children with special needs learning and enjoying themselves in such a caring environment," said Northfields Councillor Phil Taylor
Chair of Trustees, Helen Johnson, welcomed the local Councillors: "Thanks to the support of Ealing Council and our local Councillors we now have a building which is much more fit for purpose and we are looking forward to completing the equipping of the specialist sensory and soft-play rooms as well as the opening of the outdoor play area which is currently under construction."
21 February 2012