Khyati Patel was at the heart of the action this summer
An 18 year old lifeguard from Ealing, says she was ecstatic to have had a role as a Paralympic Lifeguard at the Aquatics Centre at the London 2012 Paralympic Games and has been writing a blog about her experiences.

Khyati Patel from Greenford, has just completed studying her A Levels at Ellen Wilkinson School. She qualified as a Lifeguard aged 17, through the National Pool Lifeguard Qualification with the Royal Lifesaving Society UK at the Survive and Save Club at Northwood.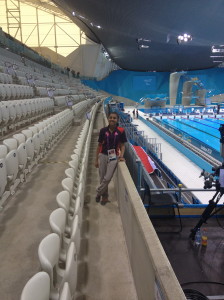 Whilst applying for volunteer roles back in 2010, Khyati had no idea that her Olympic involvement would lead her to the heart of the Paralympic action, with the responsibility of the lives of the world's greatest Paralympians on her shoulders.
In April 2012, Khyati Patel began her Olympic experience, spending three days at the new Aquatics Centre in the Olympic Park to complete pool tests and training.
In June, all Paralympic Lifeguards were required to take part in further scenario specific training, to ensure they are equipped to adapt Lifesaving methods to deal with physical disabilities.
During the games the teenager got to meet two South African swimmers.
She says 'Achmat Hassiem told us he use to be a lifeguard to before losing his leg in a shark attack! Also bumped into Natalie Du Toit in the toilets! Lots of the swimmers said hello to you whilst lifeguarding which was nice.'
Her favourite moment was watching the heats for Men's & Women's 50m butterfly and women's individual medley on Friday 7th, after weeks of seeing the athletes in training she says it was amazing seeing them in competition mode.
Khyati said: "It was a privilege to be lifeguarding the best Paralympic athletes in the world, and I feel the NPLQ qualification and my experience as a lifeguard has enabled me to confidently take on this responsibility. It has been fascinating to learn about Paralympic disciplines, and I am incredibly honoured to be a part of such an awesome event.
''All of the Paralympic lifeguards at London 2012 were equipped to initiate rescues, administer CPR and use an Automated External Defibrillator, thanks to the training we underwent as part of the National Pool Lifeguard Qualification."

Khyati will be heading to University next month but says she has been totally thrilled by her summer 'job':

'' I'm a swimming teacher at the moment so I want to keep inspiring the children I teach to keep on swimming and enjoying the sport so that maybe one day they can pursue their dreams of competing! Also only last week I signed up to the email list for the Glasgow commonwealth games to volunteer there, so fingers crossed!''

Read her blog:"Life as an Olympic Lifeguard"
13th September 2012