Avoid the area if possible as delays are likely
Work is finally underway to make the notorious Lido junction crossing safer for pedestrians.
Green man pedestrian crossings are being installed on all arms of Lido Junction where Uxbridge Road meets with Northfield Avenue and Drayton Green Road.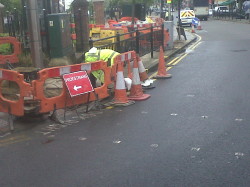 Temporary traffic lights will be in place from today (8th May) and are expected to remain in place for around six weeks.
Delays are expected during the six week programme, but work will be carried out between 9.30am and 3.30pm each day to avoid rush hour traffic. If possible motorists are advised to avoid the area during these times. Alternative routes will be displayed at the junction.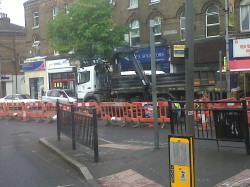 The junction has the highest pedestrian accident rate in Ealing and residents gave overwhelming support for proposals to make the junction safer, particularly for the young, elderly and mobility impaired, while avoiding significant impact on traffic flow.
West Ealing Neighbours has been campaigning for a safer crossing here for years and the council has been working with Transport for London (TfL) to make the improvements necessary.
Other changes already implemented to improve traffic flow include changes to parking restrictions near the junction and the relocation of a bus stop on Drayton Green Road.
Councillor Bassam Mahfouz, cabinet member for Transport and Environment said: "Having green man crossings on each arm of the junction will make it much easier and safer to cross here and will make a huge difference to everyone who lives and works in West Ealing.
"We are working with Transport for London to keep traffic delays to a minimum during the work."

8th May 2012