Tories say library will massively reduce in size with books and study space lost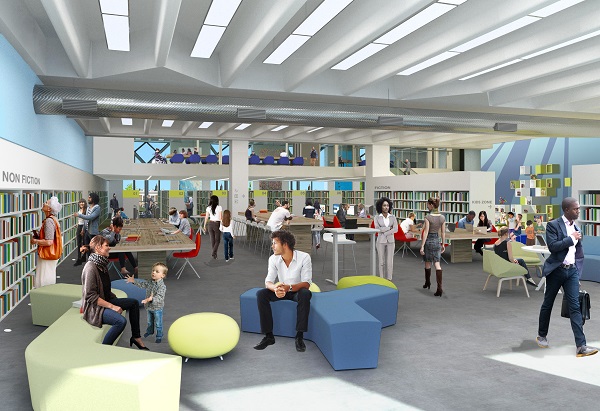 (artist's impression of what new library could look like)
Ealing opposition Conservatives have declared plans for the town's library as ' mad, bad and sad.'
The current library based in Ealing Broadway Shopping Centre will be closing in 'late Autumn', with a new, smaller facility opening temporarily in the same location in May 2018. The plan is that it will be eventually rehomed in the Perceval house redevelopment.
During the closure period, a temporary pop-up library will run on part of the current site, where customers will be able to return and collect books. British Land, the owner of the shopping centre will fund the relocation, and the space vacated by the old library is to be filled by what has been described as a 'new a high quality retailer'.
Users will be able to access the 24/7 online resources, order books online, as well as ordering and collecting books from other library locations. The closest libraries are Acton, West Ealing and Northfields.

Cllr Ranjit Dheer the council's deputy leader for safety, culture and community services said:

"The relocation of Ealing Central Library is great news for local residents and the regeneration of the area.

"Local people will benefit from a brand-new, fully fitted modern library in Ealing town centre at no cost to council tax payers. It also allows new retail opportunities as a result of the space vacated by the old site.

"We are committed to delivering first-class library facilities for residents of all ages. When complete, Ealing Central will offer a wealth of online resources, books and study space and as it will be relocated within the shopping centre, which has good access to local public transport."

However, the Conservatives disagree. Cllr Theresa Mullins, Shadow Cabinet Member said:
''The plans are mad, as it means the library space will be reduced by 64%. The library currently occupies 2,705 square feet which will be reduced to a tiny 956 square feet thereby obliterating the sense of space that residents appreciate in their library.
''The bad aspect of the plans are the financials which do not add up. It doesn't take an accountant to realise that the Council is giving away a more valuable unit for a less valuable one. Unbelievably, Labour views this transaction as great news for local residents.
''However, the even bigger and sadder part, will be the loss of books and valuable study space for students. The current book stock of 124,000 items will be reduced by 71% to 35,000 items. The 155 designated study spaces will be reduced to 65 - a 58% reduction.
''Only Labour would attempt to label a 71% reduction of book stock, 64% reduction of floor space and a 58% reduction of designated study space, as a first-class library facility for residents.
''I urge residents to attend the Call-In Meeting on Thursday, 5 October at 7pm at Ealing Town Hall. If Labour is allowed to get away with this plan, it will only be a matter of time before the other libraries are slashed, or worse yet, fully closed as they tried to do before."
Meanwhile the council wants ideas and suggestions on the look and feel of the new Ealing Central Library from residents.
Email newlibrary@ealing.gov.uk to have your say.
September 27th 2017