Books to be sold off in move to smaller first floor location above Primark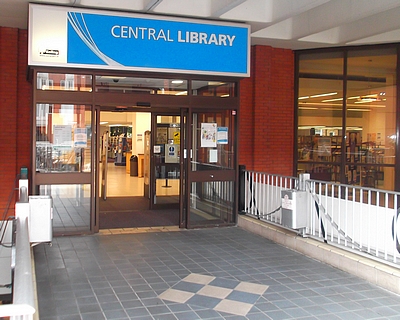 Ealing's main library looks set to be scaled down - with books being sold off - in a temporary move to a smaller base above Primark.

The current two floor site in Ealing Broadway Shopping Centre is owned by British Land who want it back to build more shops.
The new location will be a stop-gap for five years - until the library moves permanently into a redeveloped Perceval House.
According to the council only 30% of the current stock of 124,000 items is regularly borrowed.
Around 90,000 books which currently aren't being borrowed will be distributed to 12 other libraries in the borough or the home library service. The ones remaining ones will be sold two companies - one of which works with the charity Book Trust. The council say money from the sale of any books would be reinvested in new stock for libraries.
A large amount of local history materials in the library's archive will be moved to West Ealing Library and the remaining material would be put into storage - but available on request.

The library currently houses 5,000 music scores, the most frequently borrowed of which, will be transferred to the new site.
Music scores will be available for community groups, choral societies and choirs to borrow from West Ealing Library. More sheet music will be given away to the London College of Music at the University of West London in Ealing for students to use.
Cabinet member for safety, culture and community services, Councillor Ranjit Dheer said:

''The way people use libraries in the 21st century is changing with an increasing number of residents borrowing electronic books and using our online services. This is a fantastic opportunity to create a brand new, modern library in central Ealing which reflects changing habits. We also want to design a space which makes it easier to browse shelves and choose from a selection of popular, relevant books. I am proud that despite financial challenges, Ealing has not closed any of its libraries and we welcome the opportunity to create a modern library at no cost to the council.''
Opposition Conservatives angry with the proposals say 'The date and time of Ealing Central library being squeezed to death should be recorded as 12th July 2016 at 7pm'.
Councillor Anthony Young, Opposition Deputy Leader said: ''In commercial terms, the value of the current lease for the Library is significantly below the value for the new site that the Council plans to accept. Only the Labour Administration which has no regard for the concept of public service and value for money would consider this exchange to be 'best consideration.'
''The slashing of the book stock, 124,000 to 35,000 (a 72% reduction), and the reduction in study space from 145 to 45 (a 72% reduction) is enough to demonstrate that Labour intends to kill off the library by stealth, after failing miserably in the face of public opposition to do so a few years ago. It is only a matter of time before the other Libraries go as well.''
Liberal Democrat Councillor Jon Ball said, '' Selling off over two third of the Central Library's books and drastically reducing the Library's size is tantamount to a library closure and we must campaign against this. While this is for a temporary period, I am sure that if Labour get away with this, they will make the new permanent Central Library on the Perceval House site even smaller."
Subject to planning permission, the library could move to its new location in Ealing Broadway Shopping Centre in summer 2017.
13th July 2016 (updated)