Protestors demonstrate outside town hall ahead of Cabinet decision next month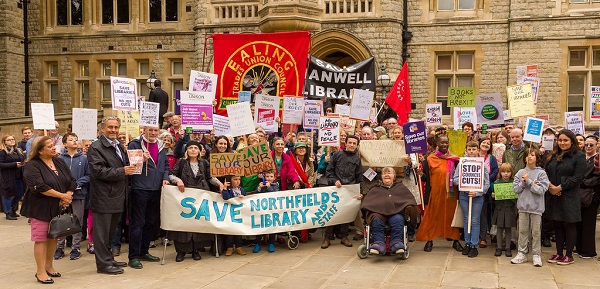 ( pic credit: Paul James, Hanwell Library Users Group)
Scores of protesters gathered outside Ealing Town Hall ahead of the full council meeting this week calling for controversial library closure plans to be halted.
Seven local libraries in the borough including West Ealing, Hanwell and Northfields, have been earmarked for closure unless community groups can be found to run them.

It's part of the Labour Council's money-saving plans, which it blames on government funding cuts.

A spokeswoman for the Save Northfields Action Group, which helped organise the demonstration, said: 'It is completely the wrong time to close any libraries given that the Central Library is now much diminished in every way. Who knows if it will be a comprehensive library even in 2025 when the Perceval House redevelopment is supposed to be finished. Thousands of new homes are going to be built in the borough over the next ten years so there will be a major increase in Council tax income.

'Many of the new homes won't have enough space for young people to study. Local libraries are even more important now as they are too for people who don't have access to a computer. 'The Council has assumed the way forward is ebooks and online newspapers but physical books now outsell kindle downloads. Many people prefer not just to have potted versions of the news on a phone or computer.
'The Council has also assumed that everyone has access to a computer for finding local events,access to major Council documents for planning applications, consultations, and advice about every day problems.

'It's also environmentally friendly to have a local library as people walk there. We don't destroy as many trees,especially with regard to children's books, as library books are continually being borrowed.'
A decision on the future of the library service will be made by Cabinet next month.
13 June 2019