Branches still face closure if community support cannot be arranged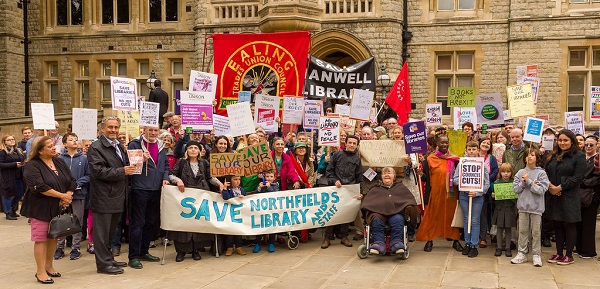 (Picture: Paul James, Hanwell Library Users Group)
The Council has revealed details of the results of a consultation into the borough's libraries in a report into the service published following a recent consultation.
Five libraries in the borough (Hanwell, Perivale, Pitshanger, West Ealing and Northfields) will become community managed libraries if groups wishing to help run them can provide a credible business case.
Proposals for each of these libraries are to be considered and groups will be asked to submit a detailed business case over the summer with a decision on their future being made in the autumn. Failure to find acceptable arrangements is likely to result in closure.
Funds have been set aside to help get community run libraries get off the ground and the council say there have been expressions of interest from parties interesting in taking on the role of support these libraries. Ealing library service will still own and provide book stock, access to the Ealing library network through the Ealing library card, the People's Network computers and access to the stock provided through the London Libraries Consortium. The expectation is that the community run libraries will be open for at least thirty hours per week.
.
They are now proposing that two libraries, Greenford and Wood End, be prepared for a switch to community management with continuing council support. They will continue to operate at their current sites while a programme is put in place to see them operated by local volunteers but for the time-being paid library staff will be on hand at the busiest times.
Ealing Broadway, Acton, Southall, Jubilee Gardens libraries will continue to be council managed with the library in Northolt Leisure Centre run with the support of Everyone Active. The council say the main town centre libraries in Acton, Ealing, Northolt and Southall will become centres of excellence in the services they provide to communities, with a strong emphasis on 'a modern digital offer'.
The revised proposals, which it is claimed will save over £1million, will be discussed at an Ealing Council cabinet meeting next Tuesday (16 July)
The council ran a 12-week public consultation earlier this year. Local people and library users were invited to consider proposals to keep six of the council's 13 libraries under council management, with the remaining seven becoming community managed or facing closure. They were also asked about changes to opening hours. As many as 1700 people responded via online and paper surveys. In addition, 366 people attended seven consultation events and three drop-in sessions held over the 12-week period. The council also carried out a representative survey of 800 Ealing residents.
Running alongside the consultation, the council talked in-depth with resident and community groups interested in community managed libraries.
Cabinet will hear that new recommendations are being made Greenford and Wood End libraries. The council is proposing to continue the overall management of those two libraries from their existing sites while putting in place a programme to develop its community support and volunteer base. By doing this, it hopes that both libraries will be better place to move to a community-managed model in the future.
They will also consider recommendations to change opening hours at council-managed libraries, opening and closing them later in line with how most residents currently use the service.

Councillor Jasbir Anand, cabinet member for business and community services, said, "I would like to thank everyone who took the time to complete our consultation and come to our events. We have carefully considered all the responses and I am delighted that local groups have been so positive and have come forward to offer their support.

"Many people realise that our government funding has been cut, we now have only 36p for every £1 we used to get in 2010. These massive cuts have come at a time of increasing demand for services which mean we desperately need to make savings and change the way we run services. Our Future Ealing programme is all about providing the services that people care about in innovative ways. People power is at the heart of our Future Ealing plan which is why it is so important to support the residents and groups that have stepped forward at this stage.

"It's essential that local communities support their fellow residents and groups during the next stage of business case development. Community involvement and volunteering is crucial to their plans and I know that the people leading these bids have some creative ideas for how to use the space in a way that benefits everyone."
A march has been organised on Saturday 13 July between Hanwell Library and West Ealing Library against the plans. The organisers say Ealing residents should get a properly-funded library service run by trained staff and not 'community hubs' run by casual volunteers. If you want to join the march they are assembling at Hanwell Library at 10.30am.
The full council report can be read online at www.ealing.gov.uk/committees.
Residents who would like to support their local libraries can contact the council by emailing libraryvolunteer@ealing.gov.uk.

July 13, 2019