Residents show support their for local facilities
Library lovers across Ealing staged a series of "read-ins" last weekend in protest at planned closures. Around a third of libraries in the capital are under threat as boroughs are forced to make massive budget cuts.
On Saturday Northfield Councillors David Millican, and Mark Reen, attended Northfields Library: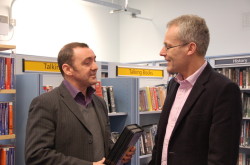 Councillor Philip Taylor was at Central Library where around 50 people turned up to show their support.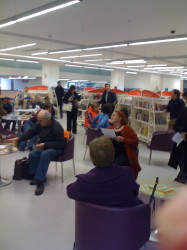 Councillor Reen said: "Libraries are critical to the local community. On our visit we were told how the librarians have offered support to homeless people".
Councillor David Millican said "We are committed to keeping our local library. It is great to see so many people using it".
The council is currently 'reviewing' the borough's libraries and there has been no announcement regarding closures but there are fears for Hanwell and Perivale libraries.
Elthorne Lib Dem Cllr Nigel Bakhai said :
"I am extremely worried about the council's plans to close libraries in the borough, especially as I am an Elthorne ward Councillor where Hanwell Library is located.
''Libraries are a vital community service used by all ages and all backgrounds. Ealing Council should be looking for new ways to modernise and make better use of the current service, rather than close buildings."
Councillor Kamaljit Dhindsa, cabinet member for customer and community services, said: "We are reviewing the library service and no decisions have been made on any closures although we are looking at the option to have fewer but better buildings.
"This month we will start to talk to residents about possible changes to the service. No decision will be made until the review and consultation are complete."
February 9, 2011