but clearly the swimming pool window needs sorting
Related Links
How it was...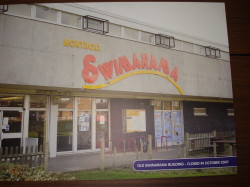 and how it is now...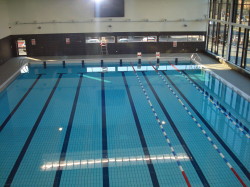 8 lane, 25m pool - currently with clear glass window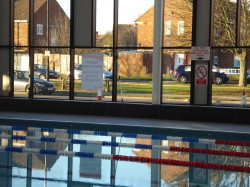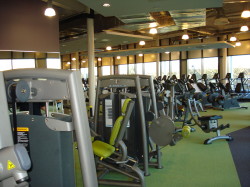 State of the art gym
Participate
Sign up for our free newsletter
Comment on this story on the
Northolt Leisure centre opened its doors to the public on Saturday and locals were eager to see inside.
There were queues all weekend with curious residents keen to sign up for membership.
This multi-million pound centre has replaced the old Swimarama in Eastcote Lane North, which closed in October 2007.
The new centre boasts a state-of-the art gym, eight lane 25-metre pool and learner pool as well as a wide range of community activities. There is a library, café and dance studio on site.
Councillor Jason Stacey, Leader of Ealing Council, said Northolt residents had been waiting patiently for this new facility and he was confident they wouldn't be disappointed.
He said: '' It's been more than two years since Swimarama closed and I'd like to thank the residents of Northolt. Their support and enthusiasm for this project hasn't waned.''
Whilst most users have come away suitably impressed others have raised concerns.
Comments on the Leisure Centre's own Facebook site have drawn attention to the fact that windows into the pool are clear glass so passers-by can see directly inside.
The council say they intended the centre to be light, airy and open plan but acknowledge this could be a problem. They are now considering options to shade the window.
The fact that there is no creche on site is also a surprise to many - a missed opportunity. Ealing Today has asked why this wasn't included in the plans and is awaiting a response.
The centre will be open Monday-Friday 6.30am-10pm and Saturday and Sunday 8am-8pm. For more information visit www.ealing.gov.uk/sports. You can also find Northolt Leisure Centre on Facebook.
Please note that the swimming pools will be open from 1pm from 2 February until 13 February for final improvements to be made, without causing unplanned disruption to users.
What do you think of the new centre?
Comment on this story on the forum
January 31st, 2010