Your chance to win free 6 month membership
Related Links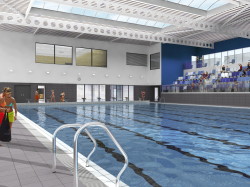 Win a free 6 month membership to Northolt Leisure Centre - you must be a member of Ealing Today to take part - answer this simple question.
What is the size of the pool?
send answers to editor@ealingtoday.co.uk before January 31st
Participate
Sign up for our free newsletter
Comment on this story on the
The countdown is on to launch the new multi-million pound Northolt Leisure Centre, which opens on 30 January.
Northolt Leisure Centre replaces the old Swimarama in Eastcote Lane North, which closed in October 2007. The new centre boasts a state-of-the art gym, eight lane 25-metre pool and learner pool as well as a wide range of community activities. There will also be a library, café and dance studio on site.
Councillor Jason Stacey, Leader of Ealing Council, said: "I am sure residents will be as impressed as I am with the transformation that has taken place. Northolt Leisure Centre certainly lives up to expectation. Hundreds of people have already signed up and taken advantage of the special joining offer we are currently running, although you don't have to be a member to enjoy the light and bright new facility."
The centre will be open Monday-Friday 6.30am-10pm and Saturday and Sunday 8am-8pm. For more information visit www.ealing.gov.uk/sports. You can also find Northolt Leisure Centre on Facebook. Please note that the swimming pools will be open from 1pm from 2 February until 13 February for final improvements to be made, without causing unplanned disruption to users.
The council's Active Ealing Team, which is running the centre, is offering a special membership price for just £32 per month for a limited time only.
People aged 60 and over, and youngsters aged 16 and under, can swim for free at designated times at all council owned pools. Registration costs £1.
To join Northolt Leisure Centre visit the sales office outside the centre from noon-9pm Monday, Wednesday and Friday, 9am-9pm Tuesday and Thursday and from 10am-6pm at weekends. Alternatively call 07889 317 215 or email northoltlc@ealing.gov.uk to book an appointment.
The council is also offering a series of special discounts across its other sports centres in a bid to help residents to get active this new year.
Southall, Greenford and Elthorne Sports Centres are all offering a special six-week trial to include the joining fee, induction and unlimited use of the gym and classes from £34 – or even cheaper if you have a leisure pass.
Twyford Sports Centre is offering a free one-week trial for fitness classes. Reynolds Sports Centre is offering 31 days unlimited use of classes for £6 and gym and classes for £15, which includes £9 gym induction. This offer is for new members.
January 20th, 2009