Consultation underway for new CPZ
Residents in the Little Ealing area have contacted the Council after experiencing an increasing amount of parking difficulties on local roads.
A new consultation is underway to assess whether or not there should be a Controlled Parking Zone (CPZ).
A survey is now going out to all homes in the area
There will be an open day - a drop-in session - with council officers on Saturday 27th September at Carlyle Hall South Ealing Christian Centre 51 Carlyle Road W5 4BP.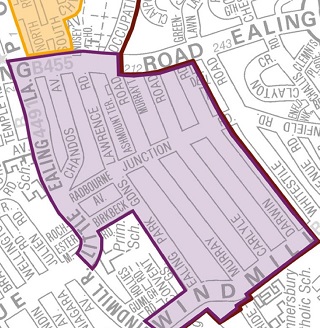 The core area covered (purple) is bordered by Windmill Road, Little Ealing Lane , Ealing Road and Darwin Road. It covers Chandos Ave, Lawrence Rd, Ashmount Terrace Radbourne Ave, Birkbeck Road, Ealing Park Gardens, Junction Road, Murray Road, Carlyle Road)
The outer area (yellow) consists of North Road South Road and Chiltern Road.
The survey asks whether there is parking pressure in the area and what you believe it's caused by.
If a CPZ were to be introduced would you favour hour periods (for eg 9-10am and 3-4pm), all day controls (eg 9-5pm) or day and evening controls (9am-9pm)?
During the hours in which the zone applies parking permits are required- for 2 hours they currently cost £50 per year, all day permits (9-6pm) cost £80.
The last consultation for this area was in 2011 when residents voted against a CPZ.
Core area: 36% of respondents said yes to the CPZ and 64% said no
Outer area: 36% of respondents said yes to the CPZ and 61% said no
The latest consultation survey needs to be returned by 10th October.
17th September 2014