Eric Leach reviews this historical joint venture between residents and council
Related Links

An original Ealing Antique Lamppost.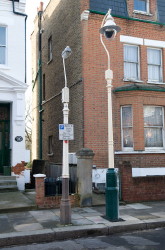 Example of the 'old' antique lighting to the left and the 'new' Heritage lighting to the right.
For much more detail on the trials, tribulations and triumphs in saving Ealing's antique lighting, see the SEAL page at www.westealingneighbours.org.uk
Participate
Sign up for our free newsletter
Comment on this story on the
Cast-iron lampposts have graced Ealing streets since that late 19th Century. Ealing was one of the first towns in England to have electric street lights and they were introduced sometime between the two World Wars.
Like many boroughs, Ealing couldn't find the money to maintain these cast-iron columns in the 1990s and by 2002 they all looked tatty with paint flaking off them.
Ealing Council grabbed a national government inspired PFI deal offered by EDF Energy in 2005. The Council got £25.275 million and EDF got the contract to replace all 14,000+ lampposts and maintain the new ones till 2030. Sadly part of the deal included the replacement of all the 1,100+ antique cast-iron lampposts.
Cast-iron post removal began in 2006 in Woodstock Avenue in West Ealing, and some residents expressed their unhappiness about losing their posts.
In September 2006 contractors began preparations to remove cast-iron posts in Salisbury Road, West Ealing but residents protested on the streets so vehemently that the contractor packed up and left.
By November 2006 a lot of people were so unhappy about the potential loss of the antique posts that they formed an alliance to try to save them.
West Ealing Neighbours, Kingsdown Residents' Association, Lammas Residents' Association and a number of residents formed Save Ealing Antique Lampposts (SEAL). Later, Ealing Fields Residents' Association also joined.
SEAL researched all the international street lighting standards and demonstrated that the posts could be 'legally' refurbished, updated and re-used.
This evidence was presented to the Council in February 2007 and in an updated form again in April 2007. Thanks to the support of Council Leader Jason Stacey, £456,000 was allocated by Ealing Council in February 2008 to save over 700 cast-iron posts and create a Heritage Quarter (HQ) of 75 streets fanning out south west from Walpole Park to Midhurst Road in the west and to Little Ealing Lane in the south.
The majority of the antique posts still working were situated in this HQ area. From February 2008 to October 2009 SEAL, along with Ealing Civic Society, met Council Street Lighting Officers 26 times in order to design, manage and monitor the antique re-lighting of the HQ.
All the posts had to be removed from the ground and sand blasted. New cast-iron bases had to be cast and attached to the antique posts. This was needed so that a low level control box could be accommodated and the optical height of 5.1 metres attained – required by international street lighting guidelines.
New swan necks were attached to the tops of the posts. An elegant new Wilsford lantern, shedding low energy white lighting, sits on top of each swan neck. The colour scheme on the posts – introduced in 1870 – of dark green on the base and cream on the rest of the post and swan neck has been faithfully retained on the refurbished, updated posts.
This project will formally be completed on 6th November, 2009 – just three years since SEAL was formed.
It has been a remarkable project in that it has very successfully involved volunteer residents working closely with Council Officers – all sharing the same data – for 20 months.
Eric Leach
SEAL Co-founder
November 3rd, 2009
.