After undercover report unveils hardline tactics of Kingdom
There've been calls for Ealing Council to cut ties with a private litter enforcement agency after officers were caught apparently boasting about handing out tickets.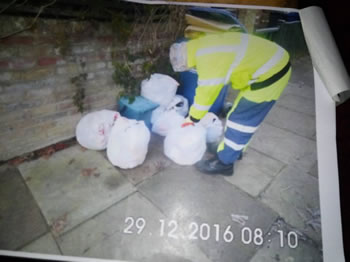 (officer checking bags for evidence of flytipping)
The BBC Panorama report featured Kingdom Services who have been employed in the borough in a bid to combat littering problems.
An undercover reporter worked with one of their teams in Kent and was told they were given bonuses described as 'competency allowances' for tickets handed out. The reporter was also told that some officers used scare tactics - threatening to call the police - to get people to pay up.
In Ealing there have been a number of complaints about Kingdom enforcement and the council were forced to do a U-turn on several fines including the case Sue Peckitt who poured coffee down a drain and Liz Jenner from Hanwell who had put additional recycling outside her house.
A council spokesman said: "Local people have said they want us to take tough action to stop littering. Like many councils we use a specialist company to carry out enforcement at no expense to residents.
"Unfortunately in these two cases officers made an error of judgement and we have cancelled the fines and apologised.
"Although the vast majority of fines are correctly issued and all of our prosecutions have been successful, we expect the highest standards and a common-sense approach to be taken."
Residents have been expressing their anger following the programme and a petition has been set up urging Ealing Council to drop the partnership with the company.
The petition reads: '' Whilst we agree that action must be taken to reduce littering and fly-tipping to ensure the environment in Ealing is kept clean, we are concerned that the practices exposed by the BBC Panorama programme are unacceptable and not should not be condoned by Ealing Council.''
Local signatories have commented: '' It's totally unacceptable for local authorities to use such unprofessional companies whose only purpose and drive is to make a profit.''
'' I support keeping Ealing clean and preventing littering but this draconian method is not the way.''
Kingdom currently has about 28 contracts with local authorities and last year saw its profits jump 30% to £9m.
Ealing Today contacted Kingdom to ask for their response to the programme and asked Ealing Council what they intend to do regarding the company. We await their comments.
May 16th 2017