Can you help a former Barnado's boy trace his family?
Kenneth Brown, 78, has contacted Ealing Today from his home in California in an attempt to solve the mystery of his family.
Born in Kilburn in 1931 he says his father absconded when he was a small child leaving his mother Gertrude to bring up five children.
At the age of seven Kenneth and his two brothers were sent to Dr Barnardos Homes, Stepney Causeway, London in 1938.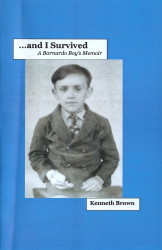 He has spent the last 15 years researching his family tree and believes his father may have helped produce another child with connections to Ealing. Kenneth now hopes to try and locate his half-brother/sister to complete his family jigsaw.
He says:
'' "Among the searches made was for my father when he lived at Augustine Ave., Ealing, in 1938 where he helped to produce a sibling.The story goes that he was entangled in an extramarital affair which resulted in a pregnancy. He chose the easy way out and abandoned my mother leaving her with five children. If true, I presume that child must now be about 70 years old and could provide a wealth of important information such as death date, health, etc. for me and my family.
" My old man was a tough nut to locate. He worked for the London Transport as an omnibus conductor, but he was fired, and that was the start of his downfall around 1937. Unfortunately for us, he covered his tracks well after he deserted my mother.
" I have thoroughly researched the BMD indexes (births, marriage, deaths), and have come close a couple of times in finding a death certificate. But I have never come up with the legitimate certificate, therefore, the social security in UK refused to give me the details of a medical record which I had located with the help of Traceline, the UK agency.
"There is no particular reason why I need to trace this sibling NOW -- I have been trying to locate information on him for many moons and anything on him which could direct me to his death certificate would bring closure for my whole family. I just had the urge to try to get information on my father any way I can. And this is the last attempt as I pass into the twilight of my own life.
"I know this is a very long shot, indeed, but in this age of computers and the internet who knows what could turn up!
"So, in effect, I am looking for someone with the name of Brown (unknown first name), with a father named John (Jack) Alfred William Brown, born May 5, 1897, in the District of Fulham at 78 Tunis Road. His last known address in 1938 was at 5 Augustine Avenue (Rd.), Ealing W5. Or, alternatively, anyone who has a friend named Brown or knows of someone who may fit the description listed who could help my cause.''
Can you help Kenneth? Contact him via the forum or email editor@ealingtoday.co.uk
October 26th,, 2009