Middle Eastern delights in the middle of Ealing
Where do you go when you have a rare night out, fancy something spicy - but don't want a curry?
A quick google of restaurants in Ealing presented the usual suspects; pizza/pasta chains, dozens of takeaways and then I found Karaam.
This Lebanese is centrally located on the Broadway and I must have walked past it a thousand times before but never really noticed it.
Although I'm a non-meat eater I've always been a big fan of middle eastern cuisine so was delighted to give Karaam a whirl.
Despite it being a Saturday night the restaurant was only half full - the recession is obviously having an impact on leisure spending.
A quick scan of the room revealed a mixture of couples, groups of friends and families.
We were warmly greeted and seated, given olives and enthusiastically perused the large enticing menu.
I loved the sound of all the starters, both hot and cold. There were three different types of hummous on offer, aubergine dishes aplenty and a large variety of salads.
This being our first time we played safe and ordered the basic Hummous (£ 4.50) and Batata Harra (£ 4.00) - which seemed to be the Lebanese equivalent of potatas bravas.
The restaurant wasn't overly busy but it still took around 30 minutes before we got our starters - a source of irritation to my famished partner.
Waiting for food when very hungry (and paying for a babysitter) does not make for a relaxing time. Perhaps the edge might have been taken off if bread had been offered alongside the olives.
Once we got stuck in though all was fine with the world again - the starters were absolutely delicious.
The hummous was a creamy, nutty, totally more-ish delight with just the right crunchy/smooth consistency. The potato cubes sauted with coriander and garlic and topped with fried vegetables were a pleasure to look at and thoroughly satisfying to eat.
In hindsight we should have ordered a bigger selection of starters and contented ourselves with those as the main courses were rather a let down.
My partner had Shish Taouk - chicken marinated in Garlic, Lemon Juice and Olive Oil, grilled on skewers at £12.00 he expected a bit more than the fairly standard chicken kebab and chips in front of him.
After discussing fish options with the friendly waiter I ordered the Sea Bass Harra (Spicy) (£13.50) but the dish I was given wasn't remotely spicy - infact it was rather bland.
The plates were both generously filled, but the two main meals were nothing to write home about.
Fortunately our disappointment was washed away with several glasses of house wine, some heavenly Baklawa and a small platter of fruits including figs and melon.
The bill for two (including tip) came to £70. It's not a cheap night out but perhaps the highlight of this restaurant is not so much the food but the entertainment.
Around 9.30pm the music is turned up, a beautifully dressed lady appears and proceeds to dance around all the tables.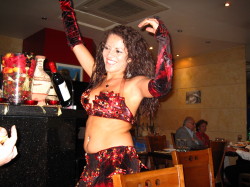 I've never been belly dancing in Ealing Broadway or anywhere else on a Saturday night (or any night come to think of it!) - well it seems there's a first time for everything!
Apologies to all who witnessed my feeble attempts but it's not everyday you get the chance!
Would we go again? Yes,for the fun factor certainly but perhaps food wise we'll give mains a miss and simply try out more of Karaam's fine array of starters.
Annemarie Flanagan
September 17, 2009