Juice shop helping West Ealing's recovery
Related Links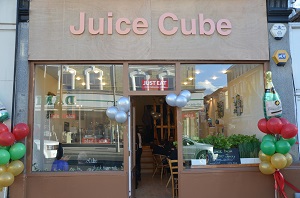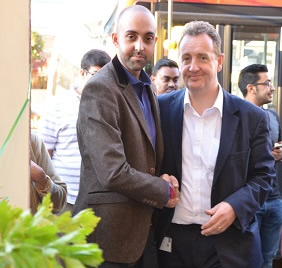 Juice Cube owner Anuj Dhanak with Ealing Council Leader, Councillor Julian Bell at the shops launch event
Participate
Sign up for our free newsletter
Comment on this story on the
An innovative new juice bar which makes use of fruit and veg that may have otherwise been thrown away - has opened in West Ealing.
The Juice Cube had a successful trial in a pop up shop last February and now has its permanent base at 191 Uxbridge Road.
Owners Anuj Dhanak and Qitai Ooi, say:
'' Every day huge amounts of food is wasted unnecessarily, simply because nobody is buying them – and that is just one of many reasons why good food is wasted.
''Fruits and vegetables especially, are facing an absurd situation. On one hand, people are encouraged to eat at least 5-a-day, which is a lot of money; and on the other hand, good fruits and vegetables are wasted because they are in the wrong shape, wrong size, wrong place, and wrong time… This is ridiculous, and we want to make things right.''
Their vision is to make healthy products available to everyone, and reduce the amount of fruits and vegetables being wasted.
They have also set up a suspended juice scheme whereby you can buy a juice in advance for someone who can't afford to buy their own.
They also plan to distribute the smoothies and juices to the local homeless.
The original pop-up shop project was part of a programme delivered by Ealing Council in partnership with community and trader groups in West Ealing to regenerate the high street and funded by the government's High Street Innovation and Riot Recovery Fund.
The council has provided a £4,000 grant towards improving the shop front of the property and some of the initial set up costs.
Ealing Council leader, Councillor Julian Bell said: "I am so pleased to see the guys from Juice Cube back in business and that we have been able to help them become part of the West Ealing community. We remain committed to improving the town centres and encouraging new businesses to make Ealing their base."
Mr Dhanak said "It's great to be back in Ealing. We were given our first chance to run a juice bar in the pop-up shop by the council and have received lots of support from its regeneration team. The grant was a massive help in getting the shop ready for opening. We want to help our customers learn about 'eating clean' and its health benefits as well as the bigger picture of reducing the amount of food being thrown away."
The shop is open Monday to Sunday 8am – 8pm.
22nd October 2014