Ealing runners should be well catered
Last week we put out an urgent appeal on behalf of Ealing resident Fiona Warren for more jelly babies to help thousands of exhausted runners complete the Ealing Half Marathon.
Quick to the rescue was Richie Jones who manages The Lord Nelson Pub on Enfield Road in Brentford.
Richie and his chef are taking part in the Ealing Half Marathon on Sunday and was only too happy to help.
Fiona said: '' Richie Jones from The Lord Nelson is not a man to do things by halves!

''I have just staggered from my car to the house with no less than 33kg of jelly babies. I probably have one for every man, woman and child in Ealing. I am fully jelly baby enabled. A huge thank you to Richie.''

Richie has also kindly offered every runner and those who have volunteered (show your medals) a free drink at the pub on Sunday.
Cheers to both Richie and Fiona who both exhibit an abundance of #Ealingfeeling.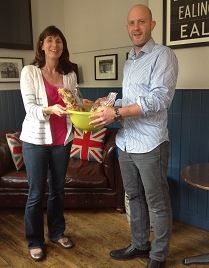 The Ealing Half Marathon takes place on Sunday 28th September.
24th September 2014