Musicians angry over cuts to Ealing Summer Festival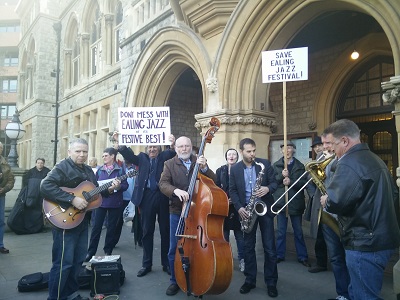 Jazz fans, angry over council cutbacks to the Summer Festival, performed an impromtu session before the full council meeting at Ealing Town Hall on Tuesday (12th April).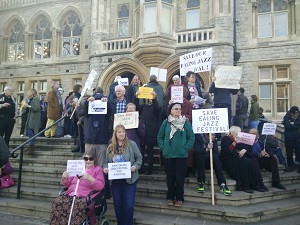 Campaigners held banners protesting that the festival - which has been going for 30 years - has been reduced from five days to two and they're angry that co-founder Dick Esmond has lost his role.
Speaking before the meeting, festival regular, Chris Wray, said: '' It's a disappointment Ealing's attitude to something that has been a tradition in Ealing. Not only jazz fans benefit from it but every member of the community, children, parents all come there for a good day out. It's a showcase for young musicians as well.''
Musician, Andrew Butcher who is heading the campaign, told Councillors that nearly 2,000 people had now signed the petition against the cuts. He questioned whether the Council's decision was based on a sound business case.
Cabinet member for Environment Transport and Leisure, Councillor Bassam Mahfouz, argued 'poor attendance' meant it was no longer economical to run the festival for five days and said the council's spending has now been capped at £72,000. Any additional costs would have to be covered by organisers The Event Umbrella (TEU).
Cllr Mahfouz said he was willing to talk to jazz fans about the possibility of self-funding the two additional days.
14th April 2016