Drayton Court will be hosting three days of summer music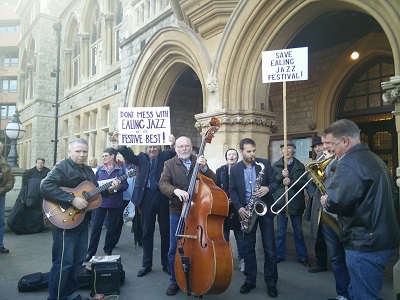 (demo outside Ealing Council house after Jazz Festival was cut)

Following the success of last year's inaugural Jazz Festival at the Drayton Court in Ealing, the venue has substantially increased its support to extend the event to a three day Jazz Festival for 2017 from Friday 18 August.
The Festival was established in response to demand from local enthusiasts and musicians in the area, after the Council last year controversially changed the artistic direction and drastically cut the length of the previously well-loved Ealing Jazz Festival, allegedly to save money.
The extended Drayton Court Festival will again be hosted and organised by Dick Esmond who founded and compered the Ealing Jazz Festival for 30 years.
It features the critical elements that underpinned the former popularity and success of the original festival: accessible and popular jazz from bands that all have local connections although with national reputations, and FREE admission.
The new Drayton Court Festival is now longer than Ealing Council's Walpole Park summer event.
March 15th 2017