Jane Shore was made 100 years ago
Related Links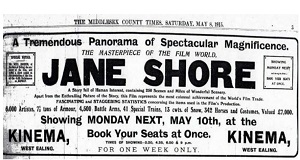 The original poster advertising the West Ealing cinema screening - 100 years ago
JANE SHORE (1915)An original Ealing Studios film with a specially commissioned score by Laura Rossi Performed live by Orchestra Celeste
Wednesday May 14th 7:30pm: Cinema Museum SE11
Box Office 020 7840 2200 [flyer]
Participate
Sign up for our free newsletter
Comment on this story on the m
An Ealing resident has composed a musical score for a silent film made at Ealing Studios 100 years ago.
Jane Shore - made in 1915 - was the first British epic, and one that rivalled the best productions coming out of Hollywood at the time.
A cast of thousands is used by Will Barker (founder of Ealing Studios) in his ambitious story of one of the many mistresses of King Edward IV - who described her as one of "the merriest, the wiliest, and the holiest harlots" in his realm!
This BFI classic film is described as the British answer to 'Birth of a Nation.' The BFI has made a new print of the tinted version (recently discovered in their archives) for it's Centenary. It will be screened at the Cinema Museum in London on May 14th.
Ealing musician Laura Rossi has created a new score which will be performed live by Orchestra Celeste and says :'' This promises to be a night to remember - a unique opportunity to watch Jane Shore'''
Advance tickets may be purchased here or direct from the Museum by calling 020 7840 2200 in office hours. In advance: £8.50/£6.50 or on the door: £10/£7 concessions
FREE with your ticket you can also explore the Museum from an hour before the performance (usually £10)


5th May 2015