Adverts were misleading but not offensive say watchdog
Related Links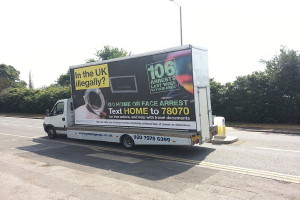 The adverts on the vans said - In the UK illegally? Go home or face arrest. Text HOME to 78070 for free advice, and help with travel documents. We can help you return home voluntarily without fear of arrest or detention.
Participate
Sign up for our free newsletter
Comment on this story on the
Adverts spotted in Ealing which told illegal immigrants to 'Go home or face arrest' have been banned.
The Advertising Standards Authority said the Home Office billboard, pasted on the side of vans driven through Hounslow, Barking & Dagenham, Ealing, Barnet, Brent and Redbridge in July, was misleading.
But the Advertising Standards Authority (ASA) cleared the campaign of being offensive and irresponsible.
The advert said there had been 106 arrests in the area in the past week but the ASA said the reference to the number of arrests was misleading because it didn't relate to those detained in the specific areas where people would have seen the vans.
"The ad must not appear again in its current form," said the ASA report.
But the watchdog dismissed complaints that the slogan "Go home" had been offensive or irresponsible. It said that, while the phrase had been used in the past to attack immigrants, the Home Office was now using it in a different context.
The report said: "We concluded that the poster was unlikely to incite or exacerbate racial hatred and tensions in multicultural communities.
"It was not irresponsible and did not contain anything which was likely to condone or encourage violence or anti-social behaviour."
9th October 2013