Crackdown on illegal immigrants
Related Links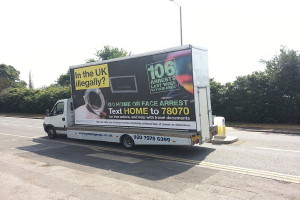 The adverts on the vans say - In the UK illegally? Go home or face arrest. Text HOME to 78070 for free advice, and help with travel documents. We can help you return home voluntarily without fear of arrest or detention.
Participate
Sign up for our free newsletter
Comment on this story on the
Ealing is one of six boroughs being in used in a Home Office trial to 'encourage' illegal immigrants to leave the UK.
Over the nex week, two vans displaying large messages will be driven around six boroughs: Hounslow, Barking & Dagenham, Ealing, Barnet, Brent and Redbridge.
The areas were chosen because they have either significantly higher or below average numbers of voluntary returns, - meaning that the success of the pilot can be assessed.
Material has also been distributed where illegal migrants are known to frequent, including newsagents, money transfer shops and internet cafes
The vans will have 'adverts' showing residents how many illegal migrants have recently been arrested in their area and there will be a text number that migrants can message to arrange their return.
Immigration Minister Mark Harper said:
''We are making it more difficult for people to live and work in the UK illegally. Every single day our enforcement officers are arresting, detaining and removing people with no right to be in the UK.
''But there is an alternative to being led away in handcuffs. Help and advice can be provided to those who cooperate and return home voluntarily.
''This pilot is just another part of the reforms of the immigration system that have cut out abuse and seen net migration drop to its lowest levels in nearly a decade. The Immigration Bill being introduced later this year will build on this work by restricting illegal migrants' access to benefits and services.''
The Home Office say voluntary returns are the most cost-effective way of removing illegal immigrants and save the taxpayer money.
There were more than 28,000 voluntary departures last year.
The Liberal Democrats are angry about the vans and say they did not agree to the posters - issued when the Lib Dem Home Office minister was on holiday.
Local Ealing Common Lib Dem Councillor, Jon Ball, says :
'' I am disgusted by these poster vans and call on them to be withdrawn from Ealing streets immediately. Ealing has a long history of good community relations, which these billboards threaten by demonising people and encouraging mistrust and suspicion of minority ethnic groups and amount to Government-sponsored intimidation.
''The public cannot tell by looking at people who is here legally or illegally and so people who are entirely lawfully present in the community may be targeted by individuals as a result of this hopelessly ill-advised campaign.''
Do you think this is a good idea? Discuss on the forum.
24th July 2013