Standing room only at Acton Town Hall
In 2010 the newly formed seat of Ealing Central and Acton was a tight three way marginal and won by the Conservative Angie Bray with a majority of 3,716.
This year it looks set to be one of the most hotly contested seats in the election and has already attracted a huge amount of national interest.
Last night hundreds turned out to listen to the 9 candidates up for election.
An estimated 200 people packed the committee rooms inside the revamped Acton Town Hall, and it was standing room only a good ten minutes before it began. Many got turned away.
Chair, Sara Nathan, was both pleased and surprised at the evening's turn-out which she said was probably one of the largest audiences for a local hustings which also had the largest number of candidates.
There are nine people standing in the Ealing Central and Acton seat. Scott Dore (Workers Revolutionary) was the only non attendee - he sent his apologies.
Labour candidate, Rupa Huq, was taken off guard by filming from the audience and requested that former Northfield Conservative Councillor, Phil Taylor, stop. However this was overruled and audience members filmed and tweeted throughout the two and a half hours.
Some audience members were not quite so riveted to the politicans or their speeches.
Hugh Johnson (@hughjohnson48) tweeted this photo saying, ''Hustings really interesting but not as interesting as a card game.''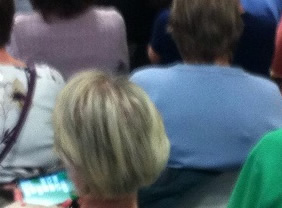 Three candidates weren't invited to sit on the (already packed) platform but were allowed to make an opening statement.
Tammy Rendle (Above and Beyond) explained she would have been called 'None of the Above' on the ballot paper but wasn't allowed to. Essentially she was representing the protest vote which she said would send a powerful statement for 'people power'.
Andrzej Rygielski (Europeans) appeared to be most concerned about the Ealing Council website which he would like to overhaul. He also raised issues about protecting the poor, fairness in housing provision for EU citizens and he wanted to stop money wasting in local government.
Jonathan Notley (Independent) said he was 'the local candidate for the local community'. He spoke primarily about overdevelopment issues facing Acton. As a West Acton resident he was involved in many campaigns. He referred to plans for the Friary Park estate (20 storey tower block with no guarantee for local housing), the 32 storey tower proposed for the Carphone warehouse site and the deferred decision for a hotel and flats at Gypsy Corner. He said Boris Johnson has called such developments in his area as 'rabbit hutches in the sky, Boris doesn't want them - we don't either.' Housing, Mr Notley said, 'was not just a single issue' and he urged the audience to press all the candidates on this, 'if you are not happy then vote for me and I will represent you.'
The opening statements from the candidates on the platform were a combination of party manifesto reminders and a sprinkling of local points.
Angie Bray (AB) (Con) hoping to win back her seat, received warm applause as she spoke about the privilege she had enjoyed serving the area for the last five years. She referred to her involvement and concern over Horn Lane pollution, her objection to the Oaks scheme which she described as 'a wasted opportunity' and her role as a intermediary trying to help communications between council and residents over a variety of housing concerns.
Rupa Huq (RH) (Lab) spoke of her 43 years living in the borough and, a public sector worker and mum had had many conversations with concerned residents about the current political situation. She said she would fight 'with every breath in my body' to prevent hospital closures, would fight for a better deal for Britain. She referred to the 1500 people using food banks in the borough which she said was 'totally wrong' and believed that Labour's policies would turn this round.
Jon Ball (JB) (Lib Dem) said many residents believe that successive councils had neglected Acton. As Councillor he had voted against the Oaks application and believed the case was overwhelmingly against, 'it was shocking to see Labour staying silent on this'. He opposed the closure of the Priory and Carlton Centres, and wants to see the Solace (West Ealing) remain open.
Peter Florence (PF) (UKIP) said the country is massively in debt and whichever party gets in will have a difficult time. UKIP he said has a fully costed out programme which would support working people as well as businesses. The economy must be improved and UKIP say the only way to do that is to leave the EU. He said the Government can't control immigration - UKIP was not against immigration but would limit it by introducing the Australian point system.
Tom Sharman (TS) (Green) was applauded after saying he wasn't going to take the full five minutes of opening statement to allow more questions from the floor. A former Acton High School student he said the Greens offered a 'positive alternative'. They want a fair economy with good jobs and a living wage. They pledge 12 billion to the NHS, will take on developers and safeguard the environment and stand firm against airport expansion.
Questions from the floor followed with a variety of issues raised
Faith schools: JB said state funded schools shouldn't discriminate on religion. AB in favour of faith schools as they help provide more choice to parents. RH was rather have community schools than faith schools. PH in favour of wide range of schools including Grammar. TS don't support faith schools or state funding of them.
Housing: All were concerned about the need for more local housing but would strive to use brownfield sites for development. RH said Labour would offer 3 year tenancies, ban rip-off tenancy fees and limit rent increases to inflation. AB said developers should advertises locally before seeking to sell abroad. TS said homes should be homes and not vehicles for foriegn investors. PF said dormant land should be brought back into use before other land used for development.
Asylum and Immigration Centres: JB and AB in agreement that time spent in detention centres should be limited. AB sais it was 'totally 'Un British' to treat people this way. PF said system was wrong and there should be better vetting procedures for those coming into country and referred to the murder of Hanwell teenager Alice Gross. TS said such centres were not right and that we should be more generous to those seeking asylum and have a moral duty to support.
There were further discussions on Gay Rights, Poverty, TTIP (The Transatlantic Trade and Investment Partnership- a series of trade negotiations between the EU and US) Climate change and the SNP.
The audience was mostly courteous - some members gave up their seats for those less able to stand. But at such events, which attract both interested bystanders and passionate party members, there was heckling from both sides. Questions about Ms Huq's donation from Tony Blair and Julian Bell's social housing situation were ignored. As were shouts of 'out of touch' and 'back door privatisation' directed at Ms Bray.
At the start of the hustings the audience was asked who was still undecided - about 30 were prepared to raise their hands.
One wonders if they are any closer to deciding.
Ealing Central and Acton Candidates
Angie Bray - Conservative
Rupa Huq - Labour
Jon Ball - Liberal Democrats
Peter Florence - UKIP
Tom Sharman - Green
Andrzej Rygielski - Europeans
Scott Dore - Workers Revolutionary
Tammy Rendle - Above and Beyond
Jonathan Notley - Independent
Residents will be able to vote at their registered polling station between 7am and 10pm on Thursday, 7 May.
30th April 2015