27 units ready for occupation in Newcastle Court development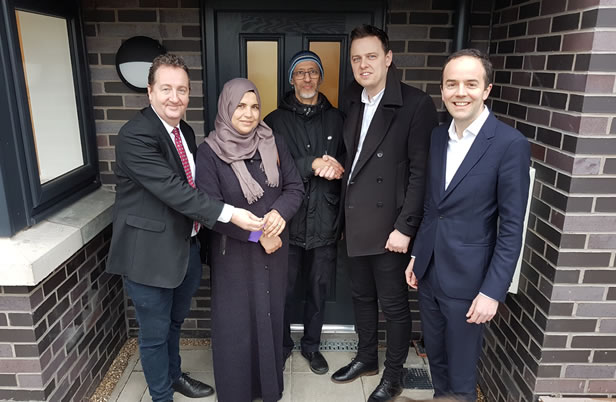 Hamid El-Moudden and Tourae Alaoui-Lahbibi, receive the keys to their new homes from Councillor Julian Bell, the leader of Ealing Council
A new council development in Northolt has now opened, offering 27 homes at Newcastle Court including five four-bedroom houses, one which is wheelchair accessible with a built-in lift, and a block of eight flats.
These units will be let by the council and a further four-storey block of 14 flats including 10 one, two and three-bed flats will be available for shared ownership and four three-bed flats for private sale – proceeds from which will be used to offset the cost of the homes that the council will let. All 14 flats in that block have already been sold.
The council say that each home is spacious, energy efficient and accessible, with balconies for each flat and a garden for each house. The outdoor space around the homes has been landscaped, with older trees retained to provide shade for a children's play area. There is also a dedicated parking area for Newcastle Court residents.
Hamid El-Moudden and Tourae Alaoui-Lahbibi will be tenants at Newcastle Court. Hamid said, "We're really pleased with our new home. It's in a great location and is big enough that we can live very comfortably, with a bedroom each. Our children cannot wait to move in."
The development, which sits on the junction of Dabbs Hill Lane and Eastcote Lane, has been built after what the council describe as extensive consultation with local people to ensure their views were taken into account.
These new homes will contribute towards the council's target of creating at least 2,500 'genuinely affordable' homes around Ealing borough by April 2022. All will be available as social lets to council and housing association tenants.
Work to build 1,185 new homes for social let, whether by the council or by housing associations, has now been either started or completed. The council says it is expected to hit 50% (1,250) of its genuinely affordable homes target in March.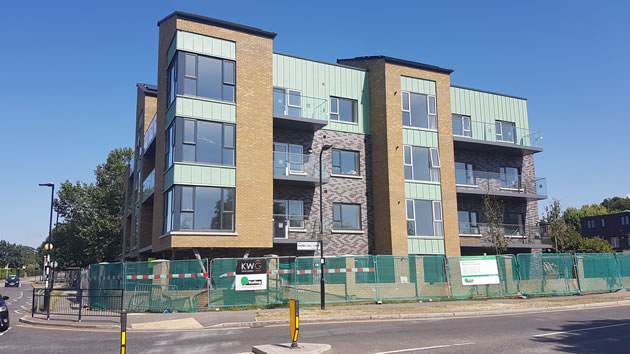 Newcastle Court, Northolt. Picture: Ealing Council
Ealing is both directly building more council homes for let, which they claim is creating more affordable homes in total, than any other London borough. They say that the ramping up of its direct building programme means it will directly develop more new homes for social rent in the four-year period to April 2022 than it did in the rest of this century combined.
The remainder of the 2,500 homes will be delivered through the council's planning system – which will ensure that a percentage of private developments are 'genuinely affordable'.
Councillor Peter Mason, the council's lead member for housing, planning and transformation, said, "These new homes have taken us almost half way towards our target of creating 2,500 genuinely affordable homes by 2022, which is by far the most ambitious council homebuilding programme in London.
"In a city which is increasingly unequal and expensive, our top priority has to be delivering high-quality homes which local people can afford. Just 10% of private rentals in our borough are now affordable for people on low to moderate incomes. The properties we let to our tenants are typically a quarter of the price you would expect to pay for a private rental.
"With over 9,000 local people waiting for a council home, this is just the start. Over the coming years, we must continue building homes the borough so desperately needs."

January 29, 2020