NHS abandon Shaping a Healthier Future plan which was recommending closure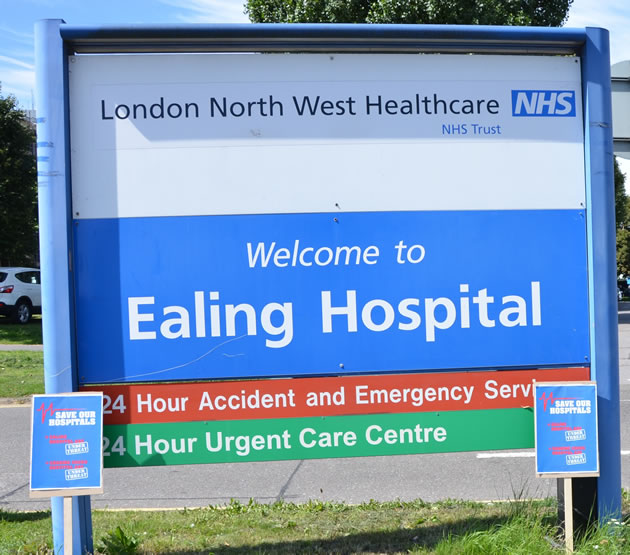 Ealing Hospital's Accident and Emergency service appears to have been saved after the NHS scrapped its controversial Shaping a Healthier Future plan.
The local council welcomed the news, with a spokeswoman saying if the plan had gone ahead, the borough would have been left with a population equal to Leeds without an A&E department.
The NHS's £500m scheme planned to axe almost half the region's blue light services.
The dropping of the programme was confirmed today (March 26) by Health Secretary Matt Hancock.
It would have also seen the closure of Charing Cross Hospital's A&E, and the loss of 500 beds for acute patients in the region.
The abandonment of the policy is be hailed as a big victory for local health campaigners as well as the council, who worked with Hammersmith and Fulham councils to garner roughly 22,000 signatures during a seven-year campaign to save services.
Ealing's Accident and Emergency has become more important with time, because the NHS plan had already led to the closure of two A&Es at Hammersmith and Central Middlesex.
A council spokeswoman said if plans had gone ahead, those in Ealing would have had to go to Hillingdon or Northwick Park Hospital for emergency care.
Ealing Hospital did lose its children's A&E and maternity services already as a part of the Shaping a Healthier Future (SaHF) plan.
A statement from the North West London Collaboration of Clinical Commissioning Groups said, "All parts of the NHS are now in agreement to draw the SaHF programme to a conclusion and bring our on-going efforts to improve health and care together in a new programme as part of our NHS Long Term Plan response. This means we will not be taking forward the plans as set out in SaHF for changes to Ealing and Charing Cross hospitals, but this does not mean that services across NW London will not change.
"Challenges still remain, including the state of our estate and getting access to sufficient capital to invest in redevelopment, the continuing growth in demand for acute care despite investment in primary and community services; tight budgets; and gaps in our ability to recruit and retain enough staff with the right skills.
"This new plan for health and care in NW London will therefore still need to include changes, involving some difficult decisions and trade-offs but we believe if we all work together - staff, patients, partners and stakeholders - then we will have the best possible chance of success."
Member of Parliament for Ealing Virendra Sharma welcomed the end of the NHS programme, and said, "I hope that we will secure the return of maternity services and our in-patients children's ward. It is wrong that no more children are being born at a hospital in Ealing, and we will continue to fight for that service."
Council leader Julian Bell said he was delighted, but remained sceptical that the Ealing services were now safe.
He said, "This isn't the first time we have been told in Parliament that our A&Es were saved so I will keep a healthy scepticism."
The campaign group Ealing Save Our NHS said in a statement after the announcement, "Ealing Save Our NHS will keep on campaigning. This disastrous SAHF plan has seen closure of two local A&Es, Central Middlesex and Hammersmith, as well as the closure of Ealing A&E to children. As a direct consequence, waiting times for Type 1 urgent A&E visits increased greatly. Ealing Hospital's excellent maternity department was also closed, forcing Ealing mothers to travel and making continuity of care more difficult for many.
"But health bosses appear to have learned nothing and to defend the indefensible. They try to conceal the A&E figures and deny there has been a problem. Mark Easton, the head of the North West London Clinical Commissioning Groups, in announcing the death of SaHF has just made the mind-boggling claim that maternity care and emergency paediatric care have improved. This is certainly not the view of local parents whose local services have closed!
"Ealing Hospital remains seriously underfunded and in crisis. But at least there is a ray of sunshine – the horrible plan underlying all these cuts has gone and we can focus on calling for proper funding and restoration of local health services."Council figures suggest 90 per cent of residents disagreed with the health closures.
According to a survey by BMG research in 2017, 70 per cent used the hospitals every year.
Written with contributions from Ged Cann – Local Democracy Reporter

March 27, 2019