Petition has over 100,000 signatures
A petition calling on the Government to save Ealing Hospital looks set to be debated before Parliament after gathering more than 100,000 signatures.
Save Ealing Hospital Community Action Group has opposed the changes at the hospital which are being made under the Shaping a Healthier Future plan (SaHF). These include closing the Maternity Wing and Children's Ward at the hospital.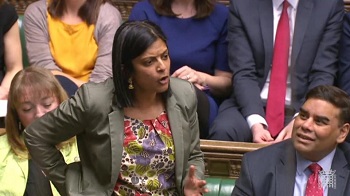 Ealing Central and Acton's Labour MP Rupa Huq said:
''THE NHS was the number one issue during the election campaign and continues to dominate the political landscape locally. On Friday my colleague Gareth Thomas MP issued a public letter signed by 11 MPs from across north west London condemning cuts, closures and downgrades. When we said during the election that Ealing maternity was to close we were accused of scaremongering but it closed last June and in two months time will be followed by the end of paediatrics at the hospital – all this despite Ealing being one of London's youngest boroughs.''
More than 100,000 people have signed the petition about Ealing Hospital and this will now be considered by the House of Commons petitions committee for Parliamentary debate.
Ms Huq said: ''This has gone from being a local issue to a national scandal.''
Following the series of strikes by junior doctors, the MP also questioned David Cameron about the controversial new contract which Health Secretary, Jeremy Hunt, says he will impose.
The Department of Health's Equality Impact Assessment found that aspects of the new contract would "impact disproportionately on women", with particular disadvantages for single mothers. However it concluded that on balance, the contract was not discriminatory and the adverse effects could be "comfortably justified".
The Prime Minister said the new contract was better for women but his reply was immediately slammed by junior doctors and the BMA later reiterated Ms Huq's comments about it being 'blatant injustice'.
Junior Doctors are planning full walkouts next week, from 8am to 5pm on Tuesday 26 April and 8am to 5pm on Wednesday 27 April - the first in the history of the NHS.
The BMA says it will call off the strike if Mr Hunt removes the threat to impose the new contract.


19th April 2016