CCTV shows figure inside bakery in early hours of morning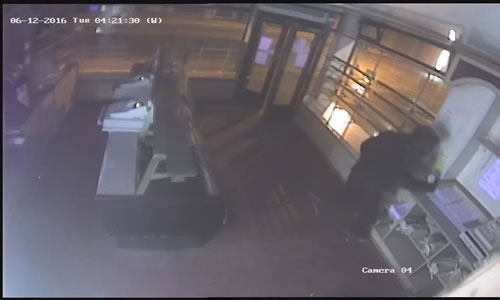 A thief has broken into Parker's Bakery on Northfields Avenue and stolen a charity box containing donations for a local hospice.
The CCTV above shows the figure dressed in black apparently taking the Meadows Hospice container from inside the shop at 4.21am on Tuesday (6th December).
Meadows House Hospice is a popular local charity based on the Uxbridge Road in Southall. It was set up in 1987 by Maria Brennan MBE and, as a specialist palliative/end of life care service, provides support to patients, carers, staff and volunteers.
Throughout the year businesses and individuals help raise money for the charity which is continually on the lookout for new sources of income to help sustain the service. The charity says: ''Meadow House Hospice relies heavily on the generosity of our supporters to provide our vital services and welcomes new fundraising initiatives.''
The news of the theft will be a shock.
Bakery shop owner, Brian Parker, said the thief broke in and cctv shows he headed straight to the full box. It was on a chain which he tripped over before breaking and making off with the money - thought to be around £40.
He posted the image on a local social media page saying '' Let's hope the thief who stole the Meadow House Hospice collecting box early this morning from Parkers, doesn't need their help too soon.''
Mr Parker has reported the incident to the police and hopes to get another charity box for the shop as soon as he can.
Details about the theft have been met with outrage, many people expressing upset and anger, others have added the Meadows Hospice Donation page in a bid to help.
The donations page can be found here.
A spokesperson from the charity has written on the local Facebook page:
'' Meadow House is saddened and disappointed to read about the theft of our collection box. We greatly appreciate all the support we receive from the local community and would like to thank everyone who has made donations via our website as a result of this theft.''
December 7th 2016 ( updated 8th)