Celebrating the Queen's Birthday local residents get the following gongs
OBEs are awarded to:
Anil Kumar BHANOT For services to Hindu Community and to Inter-Faith Relations. (London, W13)
Ms Baljit UBHEY Chief Crown Prosecutor, Thames Valley and Group Chair, Thames and Chiltern, Crown Prosecution Service. (London, W5)
A former Non-executive Director for the East London and The City Health Authority, her previous involvement in local charities and community groups includes chairing a charity in east London which provides counselling services for children and young people and membership of the Newham Asian Women's Project which helps women suffering from domestic violence.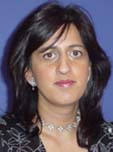 Baljit Ubhey
June 13, 2010