End of term report
Related Links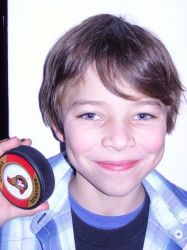 Noa Schinas (top new player)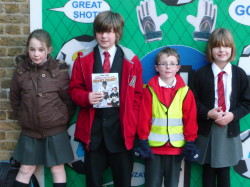 Jessica Rae, Caleb Lawler, Alister Rae, Becky Everett
Participate
Sign up for our free newsletter
Comment on this story on the
The West London Ball (Street) Hockey Club's Children programme held their final game of the Term as well as handing out the 'end of term awards.
The Canucks (Green) team played the Maple Leafs (Blue) and won 3 nil. Goal scorers for the Canucks were Logan Street with 2 and Tito Schinas with one goal. The shutout in goal was by James Reid Thomas. In the other game the Screaming Eagles (Yellow) team won 4 to 1 over the Senators (Red) team. Scorers for the Eagles were Noa Schinas with 3 and Alister Rae with 1 goal. Tasman Roberts replied for the senators by somehow managing to get the ball past a maze of players and into the net!
At the end of the game the end of term awards were handed out. The winners were as follows:
• Most Sportsmanlike player – Becky Everett and Caleb Lawler. Becky was chosen because of the level of respect shown towards the coaches and referees, she played hard even when losing, and listened and worked hard at putting skills learned into practice. Caleb was chosen for his spirit of encouraging hos team mates and considerate attitude towards the other team
• Top new Player -– Noa Schinas. Noa finished tied for 2nd in scoring with 17 goals and showed lots of natural ability
• Most Improved / Outstanding Player – Alister Rae. Alister scored just one goal in the previous term when he played a defensive game. This term he increased his offense and led the club in scoring with 21 goals.
• Most frequent attendees: Becky Everett, Caleb Lawler, Nathan Lawler, Alister Rae, Jessica Rae, Dominic Rae
The leading Scorers for the Term (13 games) were as follows
Alister Rae 21
Noa Schinas 17
Caleb Lawler 17
Jessica Rae 9
James Reid-Thomas 8
Nathan Lawler 6
We will resume play at Berners Drive West Ealing W13 0JT on Saturday January 9th (9.45 – 10.30). All children between the ages of 5 and 13 are welcome regardless of ability or level of experience playing hockey. Ball hockey is played in trainers (ie not in line skates) and otherwise is similar to ice hockey. All equipment is provided. For further information please contact Andrew Rae on 020-8840-3427 or see our website at www.londonballhockey.co.uk
Are you involved in a local sports team? Contact editor@ealingtoday.co.uk and find out how you can get more coverage.

December 22nd, 2009