Latest news and results
Related Links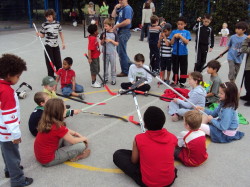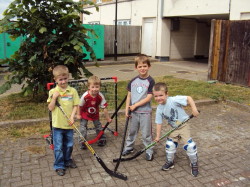 Under 6's – Winning Team – Oilers -> Left to Right –John Reid Smith, Dominic Rae, Matthew Everett, Nat Reid-Smith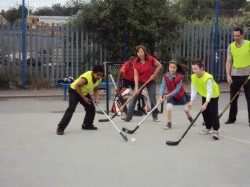 Winning Team in U8-12 section…. Eagles playing the Habs. Left to Right – Tao Jemiirifo, (Goalie) Kai Jemiirifo, Nicky Rae (in the red), Milico Ugrinic (red), Torin Street
Participate
Sign up for our free newsletter
Comment on this story on the
The West London Ball / Street Hockey Club held another tournament on Saturday . We had 22 children participate with 6 teams in total – 4 teams in the Under 8 to under 12 section and 2 teams in the under 6 section. The format for the U8 – U12 section was a round robin tournament. The results are as follows:
Round 1
The Maple Leafs (blue team) spurred on by 2 goals from Logan Street started the tournament with a bang defeating the Canucks by a score of 2-1. Goal scorer for the Canucks was Noa Schinas. Meanwhile the Screaming Eagles (Yellow team) defeated the Habs (Red team) 1 – Nil on a goal by Tao Jemiirifo.
Round 2
The two winners form round one then faced-off for a battle to take the tournament lead. The Screaming Eagles got out to a 4-1 lead on a hat trick by Torin Street and Tao Jemiirifo, who recently joined the club from the ChristChurch CE School team, notched his second goal of the tournament. The Maple Leafs applied a lot of pressure late in the game managing to narrow the margin to 4-2 however they simply ran out of time. Alister Rae scored both goals for the Maple Leafs. Meanwhile in the other game the Canucks defeated the Habs by a score of 2 – Nil on goals by Noa Schinas (his second of the tournament and 35th of the year) and Tasman Roberts. Noa Schinas now only Trails Caleb Lawler by one goal for this year's overall scoring lead
Round 3
The Screaming Eagles entered the last round only needing a tie to gain the tournament win. And that is what they did battling the Canucks to a nil nil tie. Meanwhile the Habs battled for their lives to avoid the wooden spoon and managed to squeak out a 1-nil victory over the Maple Leafs. Members of the Winning team were: Torin Street, Tao Jemiirifo, William Ashton and Jason Ashton. Torin Street was the leading goal scorer for the tournament with 3 goals.
In the under 6 division the Oilers (Blue) team played the Senators (Red) team with the Oilers earning a 3 – 1 win. Goal scorers for the Oilers were John-Reid-Smith with 2 and Dominic Rae with 1. Trim Bravo replied for the Senators as he notched his 10th goal of the term.
Leading Goal Scorers for this term as of the 12 June are:
Under 8, 10 & 12
Noa Schinas 8
James Reid-Thomas 5
Nathan Lawler 4
Torin Street, Caleb Lawler, Alister Rae, Jessica Rae all tied with 3
Under 6 Division
Trim Blavo 10
Kan Ahumuza 4
Dominic Rae & John Reid-Smith 3
West London Ball Hockey Club play at the five-a-side football court on Berners Drive, West Ealing (W13 0JT) on Saturday mornings form 9.45 – 10.30. Remaining dates fo rthis term are: June 19, 26, July 3, 10th and 17th. All children between the ages of four and 13 are welcome. No equipment is required
For more information about sessions - visit www.londonballhockey.co.uk
June 16, 2010