Places for 1200 pupils - due to open in September 2013
A new exhibition will go on display shortly so people can see how Ealing's new high school will look.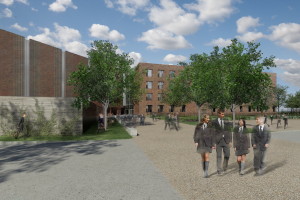 The school is planned for the old GlaxoSmithKline Sports and Social Club grounds on Oldfield Lane North. It is scheduled to open in September 2013, subject to planning permission, and will be run by the Twyford Church of England High School and the London Diocesan Board for Schools.
When full, it will have places for 1200 11 to 16 year olds, a sixth form with places for 250 students and a centre for children with special educational needs. Under current proposals, the local community will also be able to use the school's facilities including its full-sized sports pitches, flood-lit hard playing surfaces, indoor sports hall and activity studio.
The exhibition will take place in the existing building on the GlaxoSmithKline site on Oldfield Lane North, UB6 8QD. Local people will have the opportunity to view the designs, speak to the team behind the school and give their comments and suggestions. It will run from 3- 8pm and is open to everyone.
David Archibald, Executive Director, Children and Adults, said: "I know that many local families will be pleased to see plans progress to this stage and will want to see the designs for their long-awaited new school.
"We have worked closely with central government and the Twyford Church of England Academy Trust to get to this stage and we want to make sure that local people are given a chance to have their say too."
Alice Hudson, Executive Headteacher, said: "I'm delighted to be able to go public on an imaginative design which responds so well to the features of the site. The building will look out onto the extensive playing fields and the trees making it very open to the community and wider world – this fits perfectly with the ethos we aim to create"

To find out more about the proposed school, including the admissions policy and the curriculum, go to www.necea.org.uk.
1st May 2012