The sudden death of cycling man David Eales has been announced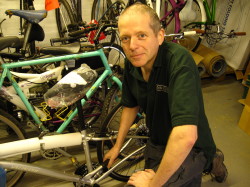 Tributes are pouring in following the news of the sudden death of Ealing's well known cycle man, David Eales.
His daughter, Joanne, made the sad announcement that he had died after a short illness on Facebook : ''To our wonderful Dad, I really hope you know how truly loved you were. Rest in peace and be assured you will live on in all of our memories forever. Missing you with all our hearts xxxx''
David has been a passionate advocate for cycling and at the forefront of many local intiatives, including the Ealing Cycling Campaign and the London Bike Hub.
He got into cycling later in life on the advice of his doctor in a bid to help his back pain, and said it changed his life. Cycling became a real passion and he used it to help many men, women and children throughout West London onto two wheels, building novice's confidence with his gentle manner.
Ealing Councillor Bassam Mahfouz, a fellow cyclist and David's friend and colleague said, '' David was one of the world's genuine nice guys. He had a cutting sense of humour and will be remembered for his limitless bank of 'dad' jokes. But he was also determined and had a way of always landing his points well.
'' David always had a smile up his sleeve and deployed it at just the right times, he was not only always positive; he was always doing something positive. His work has inspired countless people across west London to get into cycling and given them the practical skills to do so, whether it was riding safely, bike maintenance or the confidence to get on a bike in the first place. He was a superb advocate for cycling, a great mind with an entrepreneurial flair matched by his social drive to improve peoples' lives. David you touched the lives of so many in such a short space of time. I know you are greatly missed by all who met you. Personal and heartfelt condolences to David's family - may you have the strength you need at this impossibly difficult time.''
David, has been a figure of huge importance in the cycling world and in 2011 was voted Ealing's 'Local Hero' on Ealing Today - an award which he humbly accepted on behalf of all the volunteers he worked alongside.
Friends and colleagues have been writing on Facebook expressing shock at the news of his death but also remembering him with great fondness, recalling his dry wit and unique sense of humour.
Alongside the jokes and puns being left in his memory a former worker recalled how David had once arrived at work sporting a large bruise on his forehead and explained it was caused by his pretending to be a dalek with his children and having trouble with the plunger!
Ealing's Council Leader Julian Bell, himself a keen cyclist said, '' I am deeply shocked and saddened by this terrible news. I was with David only a matter of weeks ago sharing a drink in the Wheatsheaf talking about cycling, Brexit and our families and then taking a photo with him outside the Town Hall with his cargo bikes. If ever someone was irreplaceable it is David. He gave so much to the community and his commitment to cycling was unmatched. I am so sorry to know he is no longer with us. My deepest and sincere condolences to all the Eales family and his many friends. Rest in peace my friend.''
David's family plan to set up a donation site to Chelsea and Westminster hospital as well as to help research the condition which took his life. The link is now available here
Friends and members of the community are invited to raise a glass to David at his favourite pub, The Fox, Green Lane, Hanwell on Thursday 1st September from 5.30pm.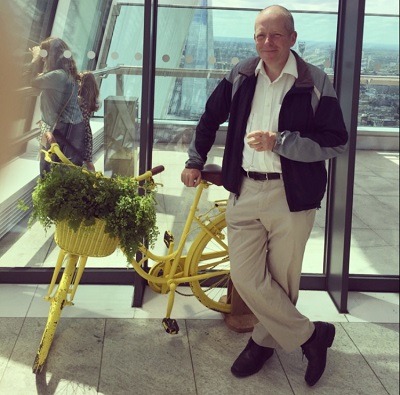 Deepest condolences to David's family and friends from Ealing Today
25th August 2016