Charity providing free health checks for the young
Related Links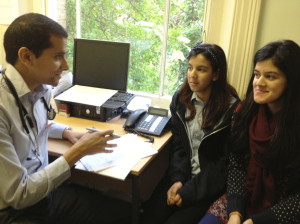 Sisters Sophie (left) and Leanne Haliburn, daughters of Ealing Choral Society member Cynthia Haliburn, discuss their screening results with CRY's Dr Abbas Zaid.
Participate
Sign up for our free newsletter
Comment on this story on the
More than 70 young people had their hearts screened for free in Ealing on Sunday.

The fully booked sessions were funded by the Tom Clabburn Memorial Fund and run by the charity Cardiac Risk in the Young (CRY), who provided the medical expertise.

Ealing schoolboy Tom Clabburn died aged 14 in 2007 from an undiagnosed heart condition. CRY say he is one of the 12 young people aged 14-35 who die each week from such a condition.

Tom's fund and CRY have held screenings for young people every year for the past four years. This year's event was held at the Florence Road surgery in Florence Road, Ealing, for the second year in a row.

Tom's father, Paul Clabburn, said: "It's important that young people have the opportunity to be screened so I'd like to thank all those who have raised money by taking part in a variety of events. It's thanks to their efforts that the screenings are free.

"I'd particularly like to thank Ealing Choral Society who raised many thousands of pounds at last year's charity carol concert in aid of Tom's fund. I'm really pleased that young people associated with the society are among those who have taken the chance to be screened."

This year's Ealing Choral Society charity carol concert will be held on Saturday December 15 and is in aid of Contact a Family, for families of disabled children. '
3rd July 2012