Kerry Shilling from Selborne Primary is awarded London Headteacher of The Year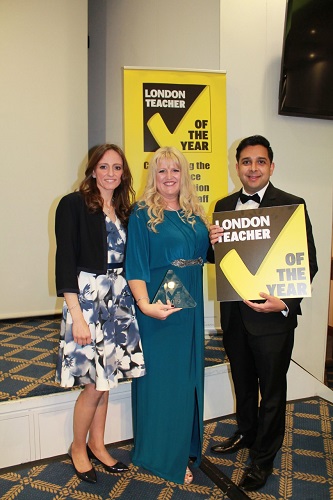 Mrs Shilling (in the middle), Mrs. Ghana Assi (Governor - Left of Mrs Shilling) and Mr Prash Mehta (Chair of Governors)
An Ealing Headteacher has been recognised at a prestigious awards ceremony to celebrate her outstanding contribution to her school.
Mrs Kerry Shilling, Headteacher of Selborne Primary School in Perivale, was awarded 'Overall London Headteacher of the Year'and also 'Headteacher of the Year' in the Ealing & Hillingdon category.
The event organised by educational charity Inspire Schools (KM Charity), celebrated the expertise, skill and dedication of teachers and support staff across London. The awards were presented to Mrs Shilling at the event held at the Royal Aeronautical Society's headquarters in Mayfair Friday 14thJune.
The judging organisations included Imperial College London, the University of Greenwich and the London Chamber of Commerce and Industry. The award follows Selborne Primary School being judged to be 'Outstanding' in its most recent Ofsted inspection –a rating only given to around 18% of primary schools nationally.
The school has also previously been recognised as one of Sadiq Khan's School for Success. Mrs Shilling has been Headteacher at Selborne school since 2015.
She said: "I am so honoured to win the London Headteacher of The Year Award 2019. I have the opportunity to work alongside passionate and committed professionals who make such a difference to children's lives. Thank you to the Governors for their continuous support.''
Welcoming the award, the Chair Governor, Prash Mehta adds: "To be recognised as the best Headteacher in London is a fantastic and well deserved achievement for Mrs Shilling. She is an outstanding leader at Selborne and with the support of teachers, staff and governors over the last few years, has turned the school around to be Ofsted graded outstanding and has had a hugely positive impact on the local community. Thank you Mrs Shilling, and very well done."
Maria Adan, co-Chair of Selborne PTA congratulated Mrs. Shilling on her award, "We would like to congratulate Mrs Shilling, we are all so very proud that she has been given this amazing award. This award recognises the tireless efforts that our amazing Headteacher puts in to keeping our school 'Outstanding'. We look forward to continuing this wonderful journey."
Selborne Primary School is based in Conway Crescent, Perivale, and serves more than 625 pupils. Its on-site facilities include an Additional Resource Provision, state of the art IT equipment, sports facilities and grounds.
18 June 2019