New group formed to keep centre accessible to all
Related Links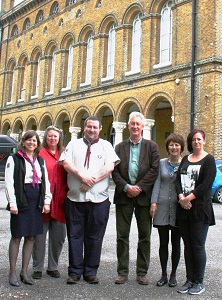 Names of HCCC left to right : Jocelyn Phillips,Carolyn Brown,Paul Phillips,Nigel Clarke, Dominique Morgan,Jacqueline Sears
Participate
Sign up for our free newsletter
Comment on this story on the
A group of Hanwell residents is hoping to take over the running of the historical Hanwell Community Centre.
They are applying to become a charitable company known as Hanwell Community Centre Consortium (HCCC) and plan to submit a bid to Ealing Council.
The centre is currently managed directly by Ealing Council and has operated for the local community since the 1940's. Now the council is looking at alternatives to managing the Grade 2 listed building and intend to put it out to tender.
Discussions with potential partners have already begun and the council want to work with a community-based charitable organisation, or with a commercial group such as Carillion plc who already run library services across the Borough.
Hanwell Community Centre is recognised as an important heritage asset for both Hanwell and the Borough. The building is Grade II listed by Historic England (formerly English Heritage) and Cuckoo Park that surrounds it was successfully registered as a Town or Village Green in December 1994.
Originally built as a Poor Law School in 1856, and known as the Cuckoo Schools, the building was home to a six year old Charlie Chaplin and his brother Sydney in the late 1800s. There is a rich social history archive of photographs recording the activities of the school in training poor children in trades and life skills to give them a successful future in Victorian and early 20th century Britain.
Nigel Clarke, is one of the leaders of the Consortium and on the Management Committee of Hanwell Big Local, a £1M lottery-funded charity based at the centre. He said:
"We want to ensure that HCC is run in line with a vision and objectives agreed by the community, to the benefit of the community and current service users.
''HCCC is calling for people who have an interest in HCC in terms of using its space, or valuing its history and heritage, and who are able to commit time to championing its future, to come forward for election to the Board of Directors of the Consortium."
Carolyn Brown, Chair of Hanwell Community Forum, a member of the Consortium said:
''We are looking for people who are connected to Hanwell or HCC, and would like to drive the centre towards becoming a vibrant, inclusive, welcoming and sustainable community-led social enterprise at the heart of the community.''
"Importantly," says Dominique Morgan, a Consortium member who has enjoyed practising a craft at the centre for 15 years, "It is key that HCC, built for the benefit of the common man, stays true to its origins and remains accessible to all members of the community.''
For people who would like to join the Board of HCCC, nomination forms for proposal and seconding of nominees are available to complete online or download and can be requested and returned by email from
The deadline for receipt of nomination forms is Friday 8th May.
The inaugural meeting of HCCC will take place at HCC on Wednesday 13th May 2015 and the election of Directors to the Board from those nominations received will take place there.
Request a nomination form by telephoning or texting your contact details to Carolyn Brown on 07774 235 284 or Dominique Morgan on 07831 117 294.
29th April 2015