Ealing's applied to 'deregister' a section for cycle hub use
Residents say losing a section of Haven Green as Common Land would set a dangerous precedent.
Haven Green - opposite Ealing Broadway Station - was initially registered under the Commons Registration Act 1965 in 1968 offering legal protection from development.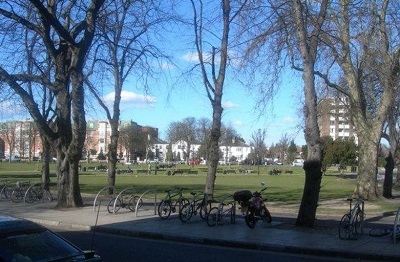 How it looked before cycle hub
In 2012 Ealing Council created a cycle hub on a part of the land which Friends of Haven Green ( FoHG) claim is illegal and needs Government approval. FoHG say the Council was aware it needed consent for the cycle hub, but didn't apply for it before starting work.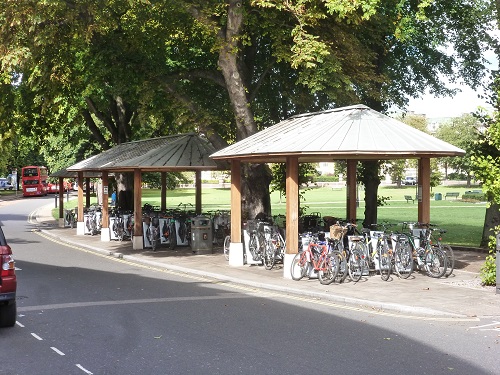 Cycle hub
Now, in a bid to ensure the cycle hub is lawful, Ealing Council is applying to have that section of the land deregistered so it would no longer be classed as Common Land.
FoHG strongly oppose the application. They say the need for cycle parking is created by commuters and argue that provision should be made within the station and not on recreational land.
Greg Phelan, Chairman of Friends of Haven Green says:

'' We feel LBE has not been observing its statutory duty to protect the Common at Haven Green as open land. We implored Crossrail and the Council to include cycle parking within the refurbished Ealing Broadway station but they refused. If this deregistration is allowed, Ealing would effectively expropriate land for its own purposes that the public has had free enjoyment of since before the Norman Conquest.''
They're urging those opposing the change in status to send in objections before 9th May.
Write: Planning Inspectorate at the Common Land Team, The Planning Inspectorate, Room 3/25B, Hawk Wing, Temple Quay House, 2 The Square, Temple Quay Bristol BS1 6PN
or email them at commonlandcasework@pins.gsi.gov.uk
A council spokeswoman said: ''We have applied for deregistration of a small isolated island of Haven Green which is used for cycle parking and has had this use for decades. The Council has no intention other than to formalise an existing and recognised activity here and avoid the risk of this popular and extremely well used feature being removed through a legal challenge.
''There is no question of developers being able to encroach on Haven Green. The land is owned by the council and we would never consider selling it. Haven Green also enjoys protection through national planning policies above and beyond that afforded by village green status.''
5th May 2016 (updated)
4th May 2016