Commuters have been calling for another station opening for years
Related Links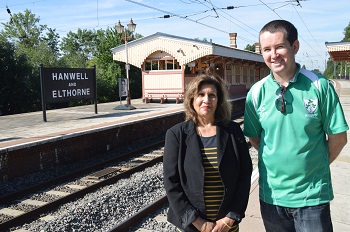 Above Conservative Councillors Anita Kapoor and Colm Costello and below Labour campaign team at Hanwell station.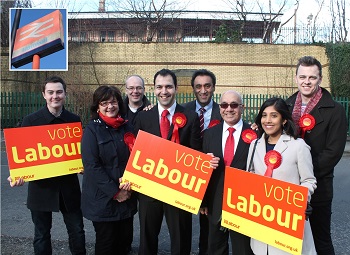 Participate
Sign up for our free newsletter
Comment on this story on the
Funding has been secured for the reopening of the southern entrance to Hanwell railway station - and both Labour and Conservatives are claiming the victory.
Transport for London (TfL), chaired by London Mayor Boris Johnson, have agreed to spend £250,000 from TfL Crossrail Complementary Measures (CCM) funds to re-open the southern access.
It was closed a number of years ago after concerns over crime.
The Conservatives say pressure to reopen it began as far back as 2009 under their administration.
Conservative councillor for Elthorne ward, Anita Kapoor, says:

"I am thrilled that Boris has found the money to reopen the southern entrance to Hanwell station. Hanwell residents have asked this for this for years. The additional entrance will make the station easier to access from south of the railway line and make the station safer by providing an alternative exit in emergencies. It will be great for everyone living in the Station Road area and beyond. Thank you Boris."

Conservative transport spokesman, Cllr Phil Taylor, says:

"It is great news that TfL is going to pay for the southern entrance of Hanwell station to be opened. Just like the new lift at Greenford station, the roundabouts that are smoothing traffic flows across the Borough and all the Borough's cycle spending, TfL under Boris Johnson is prioritising spending money on practical local projects that we all value. Next we hope that TfL will pay for a lift at Hanwell station."
However Labour say that it was their work that produced the result.
Cabinet member for Transport, Councillor Bassam Mahfouz said:
"After Labour has been campaigning on this issue for a number of years I am delighted that we have secured the southern entrance that commuters in Hanwell have been demanding for so long."
Local Elthorne ward councillor Yoel Gordon said:
'' I am delighted that work will start soon. Hanwell Labour submitted a petition on this subject to the council in the autumn. I am delighted that Network rail have listened to the pressure that we and the local community have put on them and agreed to fund this vital improvement for local commuters."
Local Hobbayne ward Councillor Ray Wall also added:

"This a great step forward but we will continue to campaign for four trains an hour, a Sunday service and lift access for the people of Hanwell to have a 21st century railway service."
Work will start in the next few months.
14th February 2014