Local group highlight problems caused by anti-social behaviour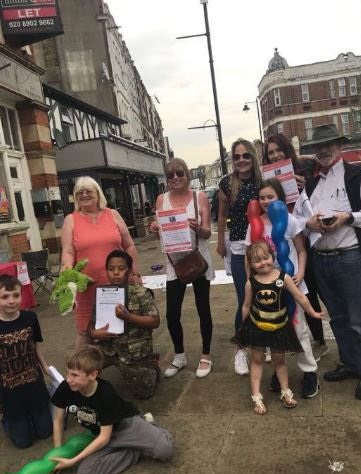 (picture credit: Kelsey Hutchinson)
A group of Hanwell neighbours who have all been affected by local crime issues took to the streets on Saturday to highlight the issue.
They organised a rally which they held near the Clock Tower and were supported by MP's Steve Pound and Virendra Sharma, London Assembly member, Onkar Sahota and various candidates for next week's council elections.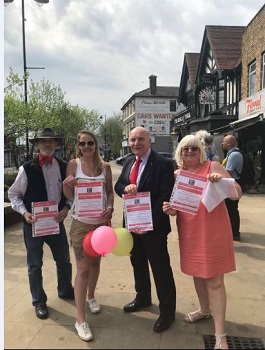 ( pic Kelsey Hutchinson)
SOS say, Our aim is working with the residents, the Met police, local charities, outreach partners and the LBE in order to make and ensure our streets are safe for our children, elderly and vulnerable members of our local and friendly community. We are not associated with any political group, we simply care to how our community is supported, respected and protected through a structured and long-term solution for all.
We have all been subjected in one way or another to crimes and anti-social behaviour towards our children and our selves.
On Saturday 21st April, along with our children, we organised a rally at the clock tower in Hanwell. It was well attended by local people, local MPs, the London Assembly Member, and local politicians standing for council elections next week.
Our mission statement identifies we cannot have an effect on Anti-Social Behaviour (ASB) and crime unless we can provide a cohesive policy that is funded to offer support.
Plans for the future - we will continue a dialogue with all organisations, and we also plan to claim our streets back by holding play days at the clock tower in conjunction with our safer neighbourhood team.
Sadly, at the start of the rally the officers from the SNT found a drug addict who had overdosed in the alley beside Domino's pizza – we are awaiting an update for this vulnerable member of our community.
We're overwhelmed by the support so far. We shall continue to campaign to make Hanwell a safe place for all in our friendly and caring community.
Polly Hutchinson, Sallie Tammi Mackay-Campbell, Richard Hering, Alice Samuel and Ann Molloy
Further details on their Facebook page.
April 25 2018