Council is embarking on an 'onslaught' against open land say protesters
Related Links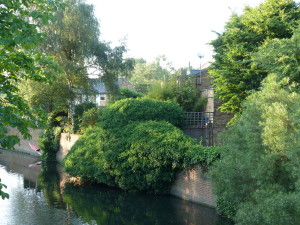 View towards Oak Wharf from bridge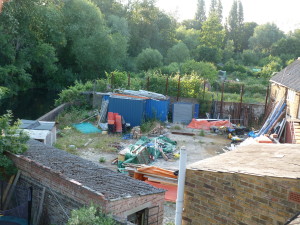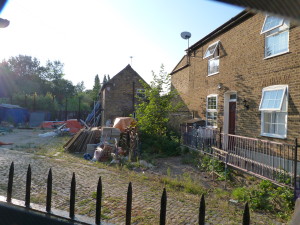 Four townhouses will be built overlooking Oak cottages - campaigners say they will be less than the minimum distance away
Participate
Sign up for our free newsletter
Comment on this story on the
Community representatives in Hanwell say plans to build in a conservation area go against against National and London policies.
Neighbours and local residents were shocked last week as the Chair of Ealing's Planning Committee used his casting vote to give approval for four townhouses to be built at Oak Wharf, in Hanwell's St Mark's and Canal Conservation Area.
The site opposite the popular Fox Pub and behind mid Victorian cottages, in Green Lane W7, abuts the River Brent at Fitzherbert Walk on the Capital Ring route through the Brent River Park, and is adjacent to, and visible from, the Hanwell Flight of Locks, designated by English Heritage as a scheduled listed monument.
The Planning Committee heard that the application to build four, three storey townhouses, in designated Metropolitan Open Land, in a Conservation Area characterised by two storey Victorian homes, fails to comply with several national policies, the London Plan and local Ealing planning policies.
Peter Hutchison, who spoke on behalf of local community objectors said:
''What's the point of having a planning policy and consulting local residents if both are ignored - let's stop wasting Council and residents' time and resources if the Council is going to pick and choose the policies to which it will and will not adhere as it suits. This application should have been thrown out based on density, mass and bulk alone",
'' The development is not just slightly too dense…it is extremely too dense, and is not remotely suitable for a Conservation area."
The site is in the heart of the flood plain, and the Environment Agency (EA) had initially opposed the application raising serious concerns about flood defences and flood water displacement. The River Brent transports water from one quarter of London, and local flooding is comparatively frequent within living memory.
However, after an eleventh hour meeting with Council planners, the EA withdrew their objection.
Carolyn Brown, Chair of Hanwell Community Forum, watched the proceedings from a packed Public Gallery she said:
"Questions have to be asked as to why this application, which fails markedly to meet planning policy, and was strongly challenged by the Environment Agency, was forced through on the Chair's casting vote, by Labour Committee members.''
" Following the highly controversial decision in April to grant approval for the development of Warren Farm for commercial gain, this appears to be a sustained onslaught by this Council on the Borough's Metropolitan Open Land, which should be as strongly protected as Green Belt," she concluded.
A petition against the application was signed by 452 local residents.
10th July 2013