Despite 400 objections Oak Wharf gets green light
Related Links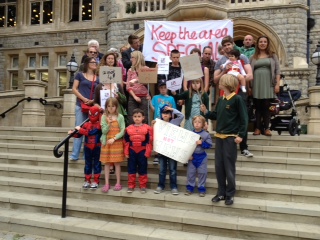 Protestors outside last night's planning meeting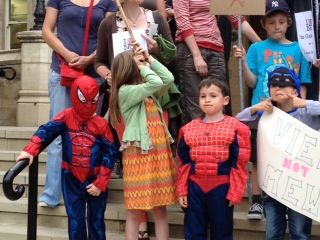 Even the Superheroes couldn't save the day
Participate
Sign up for our free newsletter
Comment on this story on the
A planning application to build four 3-bedroomed houses in a conservation area at Oak Wharf near to the Fox Pub in Green Lane, Hanwell was approved last night.
The planning application has been bouncing between the council and the objectors for months. Originally the application was for five 2 bedroomed houses.
Scores of objectors and their children, many dressed as superheroes, turned out to attend the meeting and object to the proposals.
Local Councillor Nigel Bakhai tweeted the results last night:
''Oak Wharf development in Hanwell passed by Labour councillors on planning committee with casting vote of chair after 6-6 tied vote.''
This morning many locals are furious about the decision.
Barry Riches lives in Oak Cottages which border the affected site said: " This is a sad day for democracy. Nowhere is safe from the blight of developers lining their pockets to the detriment and despair of the people who have to live alongside their follies."
Councillor Bakhai said:
'' I am very disappointed at the decision by the Labour members of the planning committee to approve this application. I thought the case for refusal was a strong one - overdevelopment with density over the London Plan, building on a flood risk zone, on Metropolitan Open Land and design out of keeping with the St Marks and Canal Conservation Area.
''I voted against but unfortunately the scheme has now been passed thanks to the casting vote of the chair of the committee. I feel very sorry for my constituents who now will have to live with this unsightly development.''
4th July 2013