Dr Colm Hickey rugby tackled violent burglar
Related Links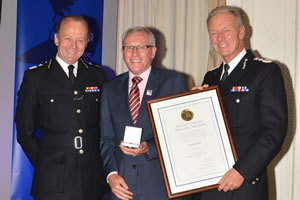 Left to Right : Sir Hugh Orde, Dr Colm Hickey and Met Police Commissioner Sir Bernard Hogan-Howe
Participate
Sign up for our free newsletter
Comment on this story on the
A Hanwell man who tackled and detained a violent burglar being has been recognised in public bravery awards organised by South Yorkshire Police.
The public bravery award recognises outstanding acts of bravery and meritorious devotion to civic duty, in support of the police, performed by members of the public and thereby contributing to the maintenance of law and order.
At 6.00am on Friday, July 19, 2013, at Church Road, Hanwell, Dr Colm Hickey and his young family were awoken by his house alarm.
Dr Hickey made his way downstairs and was confronted in his kitchen by a prolific and violent burglar.
The offender pulled a hood up to cover his face, picked up a sports bag containing stolen property and ran out of the back door into the garden.
Dr Hickey chased him and rugby tackled him onto the grass. The offender managed to get back onto his feet and repeatedly punched Dr Hickey in the face, causing grazing and cuts to his forehead.
Despite this, Dr Hickey continued to detain the offender but during the violent struggle the offender broke free and tried to jump over the garden fence.
The next-door neighbour had been woken by the commotion and went to assist and the offender told them he was armed with a knife. He made off over the garden fence but the two men continued their pursuit, enlisting the help of two further passing men.
They were able to detain the violent burglar together until police arrived. The offender was arrested for assault and burglary and was sentenced to eight years and six months imprisonment.
Chief Constable David Crompton, of South Yorkshire Police, said: "Policing in the UK has always been performed with the consent of the public and we simply could not do our job without their assistance.
"Today's ceremony is an opportunity to thank the public-spirited men, women and children who have gone beyond what could reasonably be expected of them to help protect their community, detect crime and assist the police.
"These acts often involve spur of the moment decisions which give little regard to the individual's own safety often placing them at the very heart of danger.
"I am truly humbled by the courage, selflessness and the determination they have displayed and am delighted to be paying tribute to them today."
The award is considered annually by a selection committee with nominations submitted by chief officers in England, Wales, Northern Ireland and Scotland.
24th June 2014