Who claim that children are being recruited by drug dealers
Residents in Hanwell say they're fed up with ongoing problems with anti-social behaviour, street drinking and drug dealing in the area and want action.
A recent ward forum meeting heard a litany of complaints and frustration.

Viv Ellis spoke to some of the locals affected who say the authorities aren't doing enough.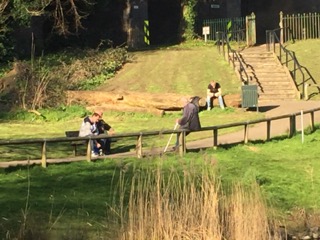 Connolly Dell in Hanwell
EalingToday was recently invited to go and meet a number of Hanwell residents deeply concerned that nothing gets done about drug dealers plaguing the area.
This followed the recent Elthorne ward forum meeting where the police came in for a great deal of criticism over their apparent uncaring attitude towards the dealers.
The six in the room feel so intimidated they did not want their names used for fear of reprisals. While I was there, another neighbour telephoned to say a further 2 people did not want to risk talking to us.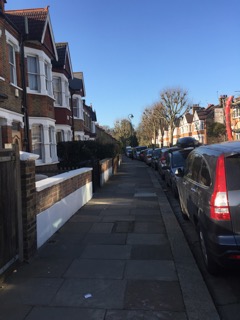 Hanwell residents fed up with anti-social activity
One dealer in Hanwell is such a nuisance that in February this year an injunction was granted to Ealing Council banning him from an area known as "The Lawns' or from being 150 metres from a primary or secondary school, having drugs and drug taking paraphernalia. Any breach could have him arrested. Yet these residents insist "It has made no difference at all, He is here all the time we have reported it – and the police haven't done anything."
"Why don't the police think outside the box? He's clearly got loads of money – you can see that from his clothes, so why don't they look into his finances? After all, that's how Al Capone was eventually caught.
Another spoke about how drugs and dealers could handicap Hanwell's revitalization. "It's all very well talking about regenerating Hanwell. There are several flash blocks of expensive flats planned. But who will buy them when they find out they'll be living check by jowl with drug takers and dealers?"
"Not only are the police not proactive, but they don't even take action when we report stuff to them. Then again – some of these dealers don't seem the least bit bothered – or in awe of the police"
"There were drug dealers here in this road on Christmas Day. Not only do they sell to children, they recruit them – to be part of their sales force'
"I've given up reporting stuff – what's the point when nothing gets done?"
Street drinking is also a matter of great concern. "The police just don't do anything" Sometimes they will pour the can of beer away – but the drinkers they just go and buy another. There are plenty of places selling cheap booze."
As well as several places on and near Uxbridge Rd where street drinking is prevalent sometimes meaning that people have to carefully inch their way past – it is Connolly Dell that seems the biggest issue. The once tranquil, pretty park, is, say these residents, often transformed into "no go area". "There are so many I feel completely intimidated – I certainly wouldn't take my children there,
The park - formerly part of the home and private clinic of mental health pioneer, Dr John Conolly after he retired as Superintendent of Hanwell Asylum had loads of work done in 2011 after which it was described as being a haven of peace and tranquillity
"We do not feel respected or protected"
The drug dealers are believed to also operate out of the nearby Windmill Park Estate – where CCTV was installed some years ago to try to try to cut offences and make residents feel safer.
" We asked about CCTV – but were told we had 'the wrong sort of lamp posts' we are just banging our heads against a brick wall"
Viv Ellis
We have asked Ealing Council and the police for comment.
March 16 2017