Police say they are working with Ealing Council and the community
Police are urging angry Hanwell residents to work with them to try and deal with an increase in crime and anti-social behaviour.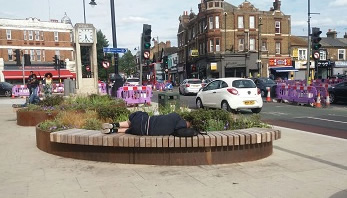 It follows reports of a number of muggings in the W7 area as well continuous issues with street-drinking and drug use, and is by way of response to the news that a young mother was recently forced out of her home by drug addicts who threated to kill her daughter.
A MPS spokesperson told us:

'' Police were contacted on Monday, 22 January by a woman reporting threatening behaviour in Cherington Road, Hanwell. Officers from Ealing investigate. No arrests; enquiries continue.

''Ealing Police are working closely with Ealing Council to tackle the issue of drug dealing in some areas of Hanwell.

''We have been engaging with members of the community affected by this issue and asking them to provide evidence to support our ongoing work to deal with this issue.

''Where those are found to have broken the law, they may be subject to arrest or be dealt with by other tactics such as exclusion orders to remove them from the area.

''Anyone with information is asked to contact the local neighbourhood policing team or call police via 101.''
Local residents have been growing increasingly angry about the problems blighting their neighbourhood and believe W7 has suffered because alcohol exclusion zones have been introduced in other areas - shifting many anti-social activities to Hanwell.
In a bid to highlight the issue and force the police and council to consider re-introducing an exclusion zone in Hanwell, residents are planning a protest expected to take place next month.
12th February 2018