Vehicle flipped onto roof
A man's been taken to hospital after an accident on Boston Manor Road in which his car flipped over onto its roof.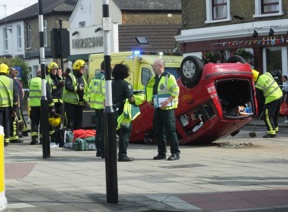 It happened about 4pm yesterday (9th July) opposite Wickes in W7.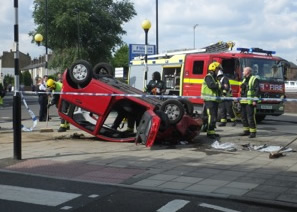 (photos above courtesy Alastair Mitton)
London Ambulance Service (LAS) say they sent two ambulances, two single responders a car as well as hazardous area response to deal with the incident.
A spokesperson from LAS said a man in his fifties was taken to Ealing hospital as a priority.
Police say they were called at 1600 hrs on Wednesday, 9 July to reports of an overturned car on Boston Manor Road, W7.
Police and LAS attended and a man was taken to a west London hospital with non life threatening injuries.
The roads were re-opened at 16:50 hrs. There have been no arrests.
10th July 2014